Kristen Hungerford, Ph.D.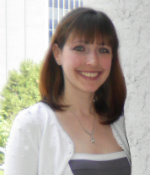 Visiting Assistant Professor
218 Rentschler
513-785-3265
hungerk@MiamiOH.edu
Kristen A. Hungerford is a visiting assistant professor in the Interdisciplinary and Communication Studies Department at Miami University in Hamilton, OH. She holds a MA in Communication Studies and a graduate certificate in Women's Studies both from the University of Akron and a BA in Communication from Youngstown State University. Her research interests are centered within the fields of rhetoric and critical/cultural studies, often including analyses regarding the transgressive voices and bodies of marginalized persons/groups. Kristen has published essays in the Journal of Contemporary Rhetoric, Women's Studies in Communication, and the Ohio Communication Journal. Several of Kristen's essays have also received special recognitions as top papers at academic conferences, including the Samuel L. Becker award given by the division of Media Studies at a meeting of the Central States Communication Association. Kristen's teaching experience largely mirrors her research interests and includes teaching courses in rhetoric, media studies, and communication theory.
Education
Ph.D, University of Memphis, Memphis, TN
M.A., The University of Akron, Akron, OH
B.A., Youngstown State University, Youngstown, OH
Courses Taught
MAC 143 Introduction to Media Studies
STC 135 Principles of Public Speaking
STC 136 Introduction Interpersonal Communication
STC 436 Intercultural Communication
Research and Interests
Rhetorical Theory and Criticism
Feminist Theory and Criticism
Media Theory and Criticism