Joseph W. Kirby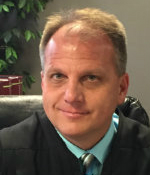 103 Phelps Hall
513-785-7702
kirbyjw@MiamiOH.edu
Judge Joseph Kirby, Warren County Probate/Juvenile Court, served 22 years in the Air Force Reserve. In 1982, he joined AFROTC at Miami University, receiving his Bachelor of Science degree in 1986. He was commissioned a second lieutenant in the Air Force upon graduation.
He served as the Duty Officer for the Air Terminal Operations Center, 40th Mobile Aerial Port Squadron, Rickenbacker Air National Guard Base, Ohio from 1987 to 1988. He then joined the 89th Tactical Fighter Squadron in 1988 and served in the capacity as Operations Management Officer from 1988 to 1996. During this time the unit converted from the F-4D Phantom II to the F-16A/B Fighting Falcon, and was deactivated in 1994. Later that same year, the unit was reactivated as the 89th Airlift Squadron, flying the C-141 Starlifter and C-5 Galaxy.
In 1996, he attended the Judge Advocate Staff Officer Course at Maxwell Air Force Base, Alabama and emerged as a judge advocate for the United States Air Force Reserve. He served as an Individual Mobilization Augmentee for the 9005th Air Reserve Squadron in Denver, Colorado and was attached for training to the Office of the Staff Judge Advocate within the 88th Air Base Wing, Wright-Patterson Air Force Base, Ohio. In 1998, he joined the 445th Airlift Wing and served as the Deputy Staff Judge Advocate, providing legal advice to the wing and squadron commanders, and over 2,000 assigned personnel. In December 2008, he was Honorably Discharged after twenty-two years of service. He retired at the rank of major.  
He is admitted to practice before all courts and agencies in the State of Ohio and in the United States District Court for the Southern District of Ohio, the Air Force Court of Criminal Appeals, the United States Court of Appeals for the Sixth Circuit, the Court of Appeals for the Armed Forces, and the United States Supreme Court.
Education
J.D., Northern Kentucky University, Salmon P. Chase College of Law
B.S., Miami University
Teaching
Law and the Courts (CJS 125)