New direct admission Athletic Training master's program gives high school students advantages
Program links Miami Regionals' Applied Biology bachelor's and Athletic Training graduate program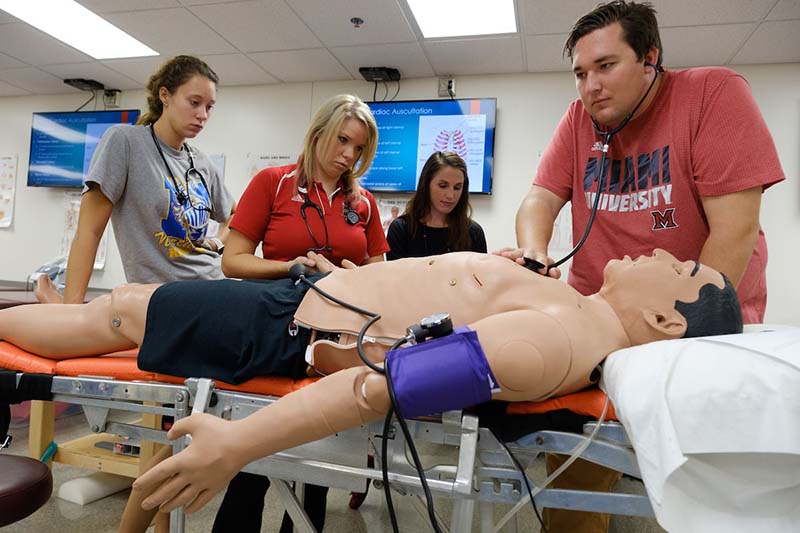 New direct admission Athletic Training master's program gives high school students advantages
Miami University has a new program for students seeking a career in athletic training that enables them to earn their
Bachelor of Science in Applied Biology
at Miami Regionals while being admitted directly from high school into the
Athletic Training master's program
at the Oxford campus.
As undergraduates, Applied Biology students will complete the Human Biology and Health Sciences concentration. This will ensure a solid foundation in biology and include all required courses for the graduate program in athletic training.
"This creates a clear path for students, from their initial admission as an undergraduate in Applied Biology to completion of their Master of Athletic Training," said David Berg, interim chair of Biological Sciences at Miami University Regionals. "They will also build the personal and professional networks that are essential parts of career advancement."
Miami has been educating athletic trainers for more than 40 years. Graduates become credentialed healthcare professionals and provide a range of services including injury prevention, emergency care, clinical diagnosis, therapeutic intervention, and rehabilitation.
"What makes this program unique is students will develop connections with other athletic training students and professionals and begin to lay a solid foundation of knowledge and skills in the field during their undergraduate experience," said Eric Brooks, director of the Athletic Training program.
The program offers students clinical experiences in an array of settings working with Miami's Division I athletic teams and club sports as well as area hospitals and orthopedic practices. Students can broaden their experiences by working with professional sports teams, including the Cincinnati Bengals, Cincinnati Cyclones, and FC Cincinnati.
The field of athletic training is growing. The U.S. Bureau of Labor Statistics projects a 17% increase between 2021 and 2031 with approximately 2,500 positions open each year.
In addition to working in educational settings, many athletic trainers work with professional sports teams, in hospitals and physicians' offices, and in fitness centers. In recent years, the need for trainers has expanded to include the military, police and fire departments, industrial facilities, and the performing arts.
To learn more about the bachelor's degree in Applied Biology and Master of Athletic Training program or to apply, go to
MiamiOH.edu/Regionals/Bio-Mat
or call 513-785-3111.