New major in Cybersecurity and Networking to start in early 2024
Graduates will be prepared for high-paying, in-demand jobs in this growing field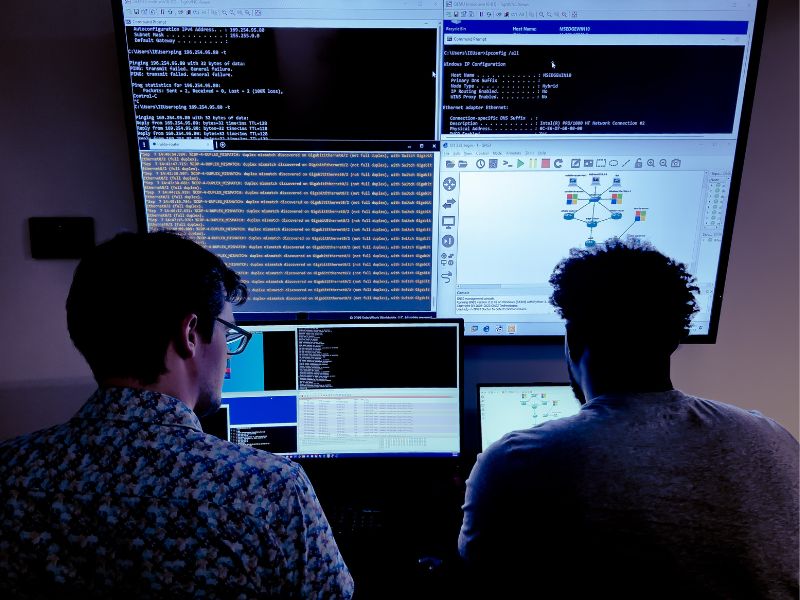 Student Lab Managers Maverick Peck and Brian Lampkin build Cyber Range Simulations for the new Cybersecurity program.
New major in Cybersecurity and Networking to start in early 2024
Student Lab Managers Maverick Peck and Brian Lampkin build Cyber Range Simulations for the new Cybersecurity program.
Miami University Regionals will launch a new
Cybersecurity and Networking major
in the spring semester. It will expand the choices for majors in the Computer and Information Technology (CIT) Department and meet the growing need for workers in the high-demand field of cybersecurity. Students can earn this degree completely online.
Students who earn a Bachelor of Science in Information Technology with a major in Cybersecurity and Networking will be qualified for IT jobs that are vital for businesses and government organizations to protect their assets from digital threats. These jobs include cybersecurity analysts, ethical hackers, network administrators, and information assurance specialists, to name a few.
In addition to the Information Technology
core curriculum
, students will take specialized courses in security and networking. These courses will prepare students for industry-leading credentials such as Certified Ethical Hacker, Cisco CCNA Routing and Switching, CompTIA Security+, CompTIA Cybersecurity Analyst, and more. Some of these certifications can be earned before graduation to better prepare students for internships and placement.
Numerous career opportunities await graduates
Job growth in cybersecurity is predicted to be strong over the next 10 years, with a 35 percent increase in the number of jobs between 2021 and 2031 — making it one of the fastest growing career spaces. In Ohio, there are at least 18,000 jobs requiring cyber skills and not enough applicants to fill the positions, according to CyberSeek.com.

Anthony Rose, lecturer in the Computer and Information Technology Department and a cybersecurity industry veteran, said cybersecurity students learn how to protect networks by completing hands-on labs that represent real-world scenarios. Students work in teams of red (attackers) and blue (defenders) to identify weaknesses in a network and then find the best methods of defending those weaknesses.

"If you are the type of person who likes to tinker with things and use your investigative skills to get things to work, then you will be a great fit. There's a lot of troubleshooting, and it's often a process of elimination," Rose said. 

"A number of professionals in cybersecurity started out in gaming and have learned basic scripting to improve their gaming," he added. "Many of those skills are valuable complements to cybersecurity."

However, cybersecurity involves more than just tech knowledge, said Donna Evans, senior lecturer and chief advisor in CIT. It also includes understanding human nature and the complex web of politics and international relations that make up our interconnected world today. This is why the Cybersecurity and Networking major also encompasses courses in political science and national security.

Rose added that weaponized cyber activity is one of the greatest national threats today, and cybersecurity professionals are among the nation's most elite defenders. 

"Countries have developed cyber forces and it's important to understand the motivations of these actors, which is why our program includes courses in geopolitics as well," he said. "We need a cadre of young people today trained to protect our country from these increasing threats."

Cybersecurity is one of three programs available through the Computer and Information Technology Department, which currently offers degrees in Health Information Technology and Information Technology. 

CIT students are eligible for valuable STEM scholarships available through a grant from the National Science Foundation. Miami graduates in CIT have gone on to top industry jobs and graduate school programs. Miami University offers smooth transitions for students to progress from an associate degree to a bachelor's degree or graduate degree with designated pathways.

See Miami Regionals' Computer and Information Technology webpage for more information about the department or for questions about this program, email citinfo@MiamiOH.edu.