Diversity Week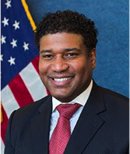 Dr. Damon Williams
Save the date for March 6 and Diversity Week when our distinguished keynote speaker will be Dr. Damon Williams '94, M.S. '96.
Dr. Williams is a scholar, leader and educator who is passionate about making organizations inclusive and excellent for all, creating equitable educational outcomes and activating learning. Join us as we bring The Inclusive Excellence Tour to Miami and explore leadership in ways that inspire transformation and new possibilities. The keynote presentation will engage audiences in a unique TED Talk-like conversation about the most cutting-edge ideas regarding diversity, equity and inclusion (DEI) leadership today. For more information about Dr. Williams please visit www.drdamonawilliams.com. 
Dr. Williams will speak from 7:00 – 9:00pm at Miami University Hamilton Campus in the Office of Diversity & Multicultural Services Room 114 Rentschler Hall. The lecture is free and open to the public. Learn more about this Diversity Week event.