About Us
VISION:
 Learning and serving as one community.

MISSION: To be a catalyst for mutually beneficial campus and community partnerships. 
The Office of Community Engagement and Service (OCES) is your resource at Miami for everything from sporadic charitable acts of volunteerism to deep social change and advocacy work. 
Our office engages with community by following a set of Guiding Principles: Mutuality, Integrity, Equity, Preparedness, and Inclusion. These principles commit us to:
experiencing shared power with our community
communicating honestly and acting fairly
seeing campus and community members as equitable partners
critically reflecting on our learning both in the classroom and community
transcending boundaries created by difference
Awards & Classifications
The Office of Community Engagement and Service is nationally recognized for providing outstanding community engagement and Service-Learning experiences that benefit our campus and community constituents. 

Miami was the only public institution, in Ohio, to receive the prestigious Carnegie Classification for Community Engagement, in 2010. The classification is effective for 10 years.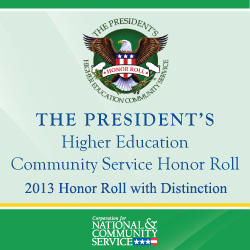 Miami has been named to The President's Higher Education Community Service Honor Roll every year, since its inception in 2007. Additionally, in 2012, Miami was recognized as one of only five recipients of The Presidential Award (Special Focus: Early Childhood Education). And in 2013, Miami was named to the Honor Roll with Distinction.