Armstrong Student Center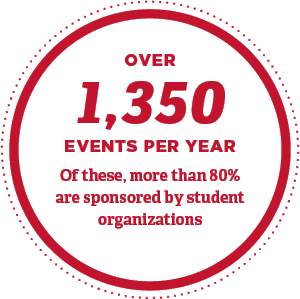 Serving as the living room of campus, the Armstrong Student Center enhances student learning, growth and development, provides opportunities for community and campus engagement and serves as a safe and inclusive gathering place for students, faculty, alumni and guests.
Affiliated Student Groups: The Armstrong Student Center Board
Engagement
There are 80+ student organizations with office or desk space in the Center for Student Engagement and Leadership (SEAL) where students log over 13,000 office hours annually. The SEAL provides storage space, mailboxes and a workroom for student organization use.
One of the highlights of annual programming is the Welcome Week program, Armstrong Palooza, with over 3,000 students in attendance.
Study room usage in the Armstrong Student Center exceeds 18,500 reservations per year.
Stewardship
The Armstrong Student Center is committed to sustainable business and environmental practices and sound fiscal management. Revenue in recent years has been higher than anticipated, due to regular use by university departments.
Conversion of lighting to LED fixtures and upgrading of water fountains to bottle filling stations are examples of sustainability initiatives.
The 15 student Armstrong Student Center Board ensures that policy decisions result in effective use of resources on behalf of students, as the primary source of revenue is the student fee.
---
Non-Student Fee Revenue Sources
About 3% of the Armstrong Student Center Revenue, or about $122,000, comes from non-student fee revenue sources. They are:
24% non-university clients
59% university department clients
13% student organizations
4% digital signage