Scott Kissell (Photographer)
Jeff Sabo (Photographer)
De'Niel Phipps (Cinematographer)
Scott Kissell
Scott has been a photographer with the Miami University IT Photo Services staff since March 2005. He arrived with 18 years of experience as a professional photographer.
He previously worked as a university photographer for Wright State University, his alma mater, from 1995–2000 and as a photo journalist for the Springfield News-Sun from 1987–1995.
During his career, he has received numerous awards, including Wright State's prestigious President's Excellence Award in Service in 1999. The Council of Advancement and Support of Education awarded him a bronze medal for photographic portrayal of university events the previous year. He also won second place awards in publications and personal vision and third place in sports photography from the University Photographers' Assocation of America.
While at the News-Sun newspaper, he won first place Associated Press awards for spot news and feature photography as well as a "Best of Cox" newspaper award for news photography.
As much as he enjoyed working for a daily newspaper, Scott truly loves working in a university environment. "What makes this university great are the faculty, staff, and students who I photograph. Together, they help define this great institution and the tradition of Miami University."
Scott is also a member of the Village Artisans Co-Op in Yellow Springs, Ohio. You can see some of his landscape photography by visiting the gallery at 100 Corry St. or by visiting his website at scottkissellphotography.com.
---
Jeff Sabo
Jeff's photographs have been published in Sports Illustrated, Metropolitan Homes, American Craft, USA Diving, and the Ohio Journal of Science, just to name a few.
Pursuing an interest that began in high school, Jeff graduated from the Ohio Institute of Photography before starting his career at Miami in 1984. In 2001, Jeff had the opportunity to showcase his dance photography with a gallery showing at the Martha Hull Lee Gallery in Hiestand Hall. Five years later, he won "Best of Show" in the monthly photo contest of the University Photographers' Association of America.
Although he considers portraits to be his niche, here at Miami, his photographic assignments include aerial, architectural, commercial, and industrial photography, and cover such areas as photojournalism, scientific research, public relations, student and faculty portfolios, and portrait and sports photography.
After the photo shoots, Jeff continues with lab work that includes E-6 and C41 film processing, copy work, slide productions, digital printing and management, and cataloging.
---
De'Niel Phipps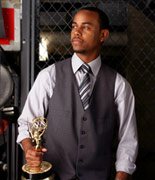 As a 2008 Emmy Award Winner, seven-times-nominated cinematographer, and post-production editor, De'Niel Phipps has made his mark in the film and television industry for the past 14 years. He was first introduced to the business at age 13, helping produce his church's weekly television program. Having this opportunity while young charted the path that allowed him to follow his dreams.
Professionally, his rewarding film production credits include commercials for McDonalds, Nationwide Insurance, and Goodyear Tire, and such feature films as the Lions Gate production of "One For The Money," the Paramount Pictures film, "Fun Size," and the independent film, "BootTracks." He has also helped produce television programming for MTV's reality show, "MADE," ESPN, NBC, and a host of other media outlets. Independently, he produced the short film, "Everlasting," the documentary, "Revitalize Cooper Park," and music videos for various artists and genres.
His passion for the film and television industry has continued to drive him to new heights. He is always looking for a new challenge to create and market visually. He truly feels that through media you can reach, teach, entertain, and inspire people.