Two Miami journalism students, two international summer experiences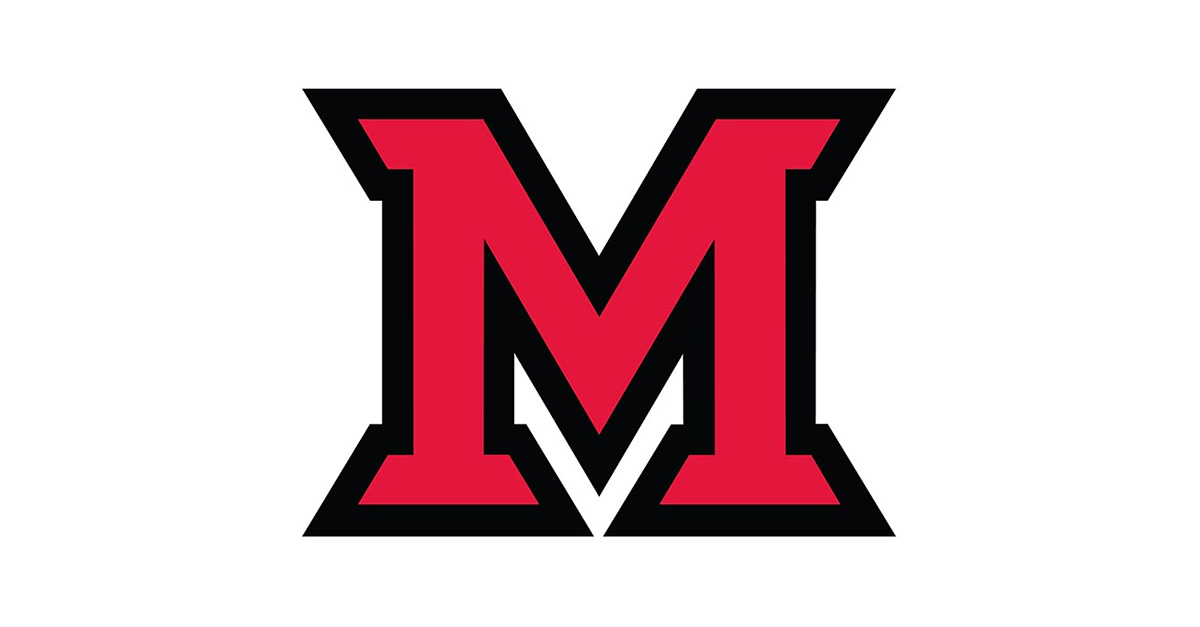 Sep 30, 2014
Victoria Slater and Kelly Stincer are both communications interns in the College of Arts and Science. We asked them to write a reflection about their international experiences of summer 2014 in Kosovo (Victoria) and Spain (Kelly). Through the Department of Media, Journalism & Film, Victoria interned as a student journalist at the free and independent Kosovo news agency known as KosovaLive, founded in 2000. Kelly was invited by associate professor of Spanish José Dominguez-Burdalo to help film a documentary about the famous Camino de Santiago, a pilgrimage route in northwestern Spain also called the Way of St. James.
A Briefing from the Balkans: Interning as a Journalist in Kosovo
Written by Victoria Slater
As I walked down Mother Teresa Boulevard on my last day in Pristina, Kosovo, I was overcome with a wave of bittersweet nostalgia. Eight weeks prior, I walked sluggishly down that same white stone street, jetlagged and disoriented. My mouth was agape as I took in all the new sights and smells, experiencing the gentle bustle of the hot early summer day. The crowded corner coffee shops; the vendors lining the streets with books, sunglasses, and children's toys; the head-scarfed beggars sitting in the shade of the sapling trees, heads bowed in prayer; the statues of revered wartime heroes; the husky Albanian language drifting from the mouths of the people that call this city home—that was all new to me. But in that moment, I ambled down this street with ease, perhaps with the air and language of a foreigner, but with the look of someone who had truly experienced this place. That city had so much soul, and I was not quite sure if I was ready to leave it.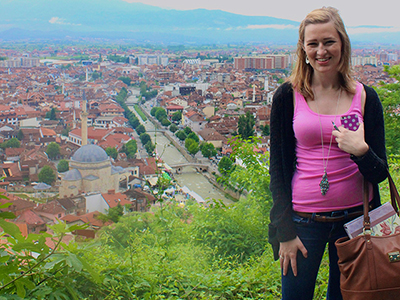 Victoria Slater in front of scenic overlook, Prizren, Kosovo (photo courtesy of Connor Moriarty)
My eight-week summer study abroad in Pristina, Kosovo with Miami University's Department of Media, Journalism & Film was a whirlwind of studying, traveling, learning, growing, and barely enough sleep. I visited six countries—Kosovo, Montenegro, Albania, Croatia, Macedonia, and Turkey—which showed me beauty I didn't know could exist. Within Kosovo, I explored four cities—Pristina, Podujevo, Peja, and Prizren. I wrote three, in-depth news stories for my internship at KosovaLive, an online news agency that was founded during Kosovo's war with Serbia. I completed eight credit hours of college classes. I established strong friendships with other students who joined me on this trip, and lasting relationships with professors who can help further my career. The sheer number of experiences I had in that short time seems enough for several lifetimes. I couldn't begin to describe all I have learned, all that has opened my eyes and changed me as a person. But I will tell you what I have found most important.
Kosovo is a tiny country (only about 4,000 square miles and 2 million people) in the Balkan region, sandwiched among Serbia, Montenegro, Albania, and Macedonia. Kosovo used to be part of a region called Yugoslavia, which is now comprised of seven independent republics. Yugoslavia dissolved in the 1990s as a result of increasing nationalism among its states. Because of ethnic tensions and years of war, Serbia and several other countries still do not recognize Kosovo as an independent state. Kosovo and Serbia have been locked in warfare on and off for centuries, mainly because both ethnic Serbs and Kosovo Albanians contend that they have lived in Kosovo since the beginning of time, and they claim rights to their own 'Jerusalem.' It is impossible to resolve the matter since records only go back so far, but you will hear a different story of how Kosovo was settled and who really belongs there depending on which Kosovar you talk to.
Despite its contentious history, during my time in Kosovo I learned that the country's character and development is rooted in the thoughts, beliefs, and perceptions of its people. Upon arriving here, one immediately sees the Turkish-Ottoman influence, with the red-roofed villages speckled across the mountaintops. They may be struck by the Muslim influence, with the eerily beautiful call to prayer reverberating five times a day from the mosques across the city. They will notice the American flags rippling in the breeze alongside the blue and yellow of Kosovo's, and they'll see the statue of Bill Clinton saluting the heart of the city. They will pass by the shell of the Serbian Orthodox Church and know who also claims rights to this land. In addition, of course they will hear the gorgeous symphony of various languages echoing down the street-corners, with Albanian—a testament to Kosovo's dominant population—the loudest voice of all. While Kosovo's mosaic of cultures may make it difficult for one to stand out, that is the point. Kosovo isn't just the diamond-shaped country with a controversial history nestled in the Balkans. Its identity is found within its people, who blend millennia of different cultures, traditions, and beliefs to generate a new, unique personality.
Since returning to Miami, I am not yet sure of the extent to which this program has changed me. I know I have become much more grateful of my easy life in the United States, of the safety, security, and money that brings structure and predictability to my sheltered little world. I cannot take for granted the endless opportunities that lie before me, the various paths—beaten, remote, or well traveled—that I can choose to take me into my future. But I wish I wasn't reentering a culture of apathy toward the government, of lack of participation in decision-making that affects the wellbeing of our extremely powerful nation. I am especially going to miss the easy-going lifestyle in Kosovo. Americans are in such a rush to be somewhere or do something by a certain time. Life is far too structured by time and schedule. When do we ever get a chance to breathe, to sip a macchiato in a café without worrying about when the waiter is going to bring the check? Our lives are dictated by deadlines that we create for ourselves. Despite how busy I have been during my time here, traveling has taught me to take a deep breath and see what exists outside the endless buzz and stress of work and school: a world teeming with unspeakable, indescribable beauty that is patiently waiting for all of us to stop and open our eyes.
I am not sure what my future holds, but I can say with certainty my passion for journalism has been revitalized. I hope to pursue it long into my life. Kosovo has provided me with the perfect place to discover how impactful and vital journalism is to a community. I realize I have the power to inform the members of a society so they can perform their proper duty as citizens and fully participate in governmental decision-making. And by doing so, I have also realized how important it is for me to participate in my own government as well.
I know I will come back to that rugged little country within a few years and see how it has progressed. I realize sadly that there is so much I am leaving behind undone and unfixed. I hope to see the stray dogs well-fed and in loving arms. I want to see the skinny, haughty-eyed children roaming the streets for money in school with full bellies. I want all the ethnic tensions and hostilities that persist there to be put aside so a new country with a new identity can develop and flourish.
Kosovo is so much more than a tiny little country the size of Connecticut that was once ravaged by war and is now neglected by the media. It has taught me the power of storytelling, it has ignited a passion for travel in my soul, and it has urged me to look inward and discover things about myself I never knew before. Even when I am gone, this energetic, quirky little place will live on quietly in the rolling mountains of the Balkans. I cannot wait to explore others like it one day. After all, in the words of Michael Palin, "once the travel bug bites, there is no known antidote, and I know I will be happily infected for the rest of my life."
Victoria Slater is a junior majoring in journalism and professional writing.
Capturing the Camino: Shooting a Documentary in Spain
Written by Kelly Stincer
Every year students travel abroad and come back with life-changing cultural experiences that shape their lives and entire college careers. Less often are their experiences documented. In the summer of 2014, I was given the opportunity to film a documentary about a study abroad group's trek across the northern regions of Spain.
I was asked by Miami's Department of Spanish & Portuguese associate professor Jose Dominguez-Burdalo to help him film this particular trek, called El Camino de Santiago. My job for this journey was to follow the students completing the 130-miles of the camino. With the help of the Department of Media, Journalism & Film, I set out with an array of film equipment and the energy to last me 10 days of hiking.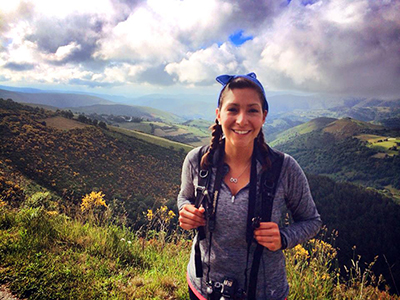 Kelly Stincer enjoys the spectacular view from a mountain in Spain
Before heading to Spain, I researched what El Camino de Santiago exactly was. It is a spiritual pilgrimage, and since the medieval times, pilgrims have set out to walk to the western town of Santiago, named after Jesus' apostle St. James, where miracles are said to happen upon arrival. People from all over the globe journey to complete the camino for a variety of personal reasons—self-centering, cultural, and religious.
Many of the students took a class in Spain with Dr. Dominguez-Burdalo all about El Camino de Santiago, learning the history and background. I acted as a fly on the wall and filmed the students during their trek. I wasn't quite sure what to expect considering I had never really done much filming on my own before, but I knew I had to keep up with the students as they walked nearly 10 hours each day.
On Day One of filming, we set out with backpacks full of clothes and water, and myself with microphones and batteries. It was the first day that I realized just how difficult this was going to be. Being the only person to film was a challenge—I had to carry a camera, a tripod, and a shotgun microphone, all while walking backwards and trying to keep the student in the frame as they hurriedly marched to keep up with others while being interviewed by me.
I quickly learned how to adapt to this unique situation. I stressed myself out the first day because I was so overwhelmed by the amount of work being thrown at me and thinking there was no way that I could complete it on my own. However, Dr. Dominguez-Burdalo was always there to give me reassurance that it would all work out.
From there on out, I learned from previous mistakes and filming became quite easy. I had to get footage that meant something, and I had to feel what the camino was really about, so I walked alone for a bit on Day Three. After we had reached the top of a mountain we had been climbing for three-hours, it was time to go down. So this was when I took it easy and just walked—not worrying about missing out on good shots, but just taking it all in. What I found was almost a euphoric feeling. I was in Spain … SPAIN. With miles and miles of rolling mountains and vineyards stretching out as far as I could see. Doing something I loved. I met people this way, just other pilgrims walking for their own purposes: an Irish monk, an group of Brits, an Australian girl traveling alone. The list goes on of the others I met, and this was when I felt what the camino was really all about.
In the camino, you find what you want to find—if you want to find it. I found people. The idiosyncrasies of each. Their stories that make them so profoundly interesting. And the impact they made on how I viewed things.
In the camino I also found perseverance, despite blisters, shaky frames, and botchy audio. I learned to let things go and live in the moment. I found that connections with others are irreplaceable, and I discovered the source of happiness and connectedness. Now my job is to edit all the video that I have to let everyone understand what a profound experience El Camino de Santiago really is.
Kelly Stincer is a senior majoring in journalism and health promotion.