Psychology students in the REDS Lab focus on suicide among college athletes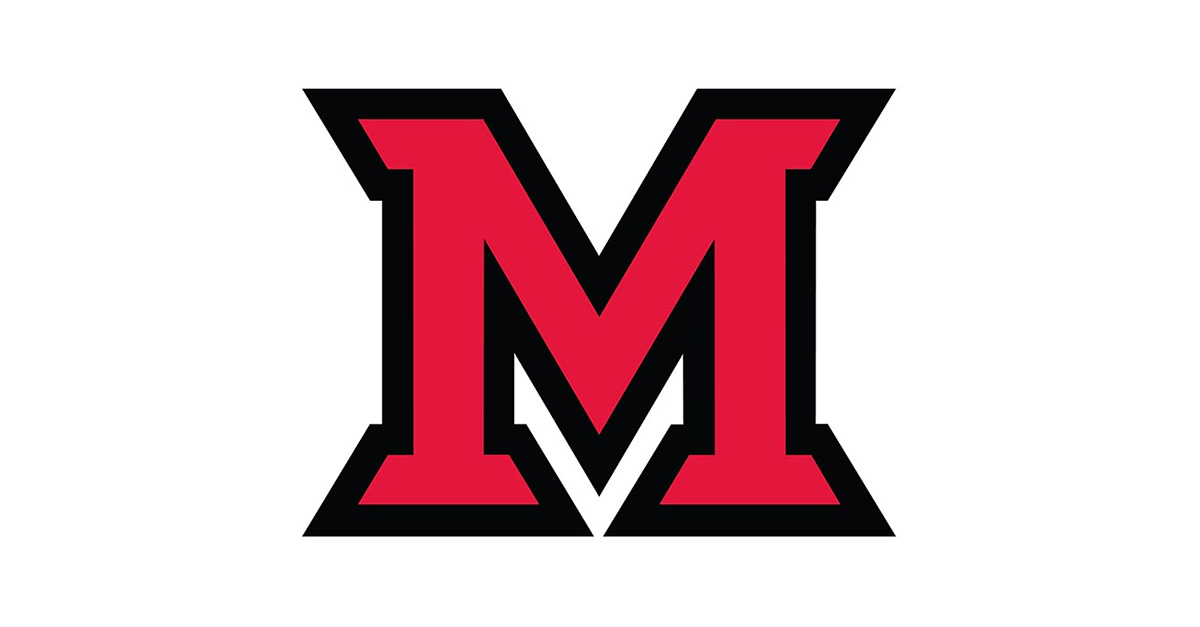 Jul 21, 2015
Written by Kelsey Stevens, CAS communications intern

Assistant professor of psychology April Smith and psychology majors Katie Harris and Kala Allen are working together on a research project that combines their interest in athletics with the focus of the REDS (Research on Eating Disorders and Suicidality) Lab.
"Our project aims to examine pain tolerance and fearlessness in athletes," said Smith.
Smith's extensive research on both eating disorders and suicidal behavior has led her to try to understand why individuals engage in these behaviors. She incorporates her findings in the classroom as well.
"I encourage my students to think like scientists," she said. "They bring in many new perspectives, so I feel like I'm learning more through them. That's why I was excited when Katie and Kala approached me to do an honors thesis and research project."
A psychology honors thesis offers experience in statistical analysis and writing, both of which can serve as core preparation for further education or career opportunities. The students help design the project, collect data, run the studies, and present the research at conferences.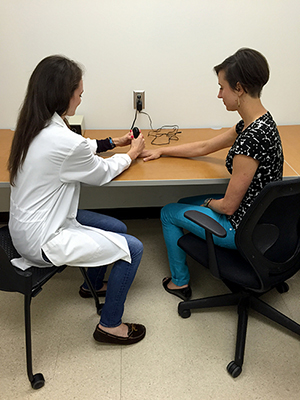 Student Katie Harris demonstrates the use of the algometer to Dr. April Smith in the REDS lab.
"I first became interested in psychology after noticing how stress and anxiety affected my teammates in track and field," said Allen, who is also minoring in neuroscience. "I became more fascinated with both psychiatric illness and the mystery behind neurological disorders."
Harris and Allen started out as research assistants in the REDS Lab. Being college athletes themselves, they are investigating whether painful experiences that result from athletic participation such as physical contact, injury, or weight control practices are related to pain tolerance about fearlessness about death.
"Currently, suicide is the third leading cause of death for individuals aged 15-24," said Smith. "According to the interpersonal-psychological theory of suicide, an individual will not die by suicide unless he or she has a fearlessness about death and a high pain tolerance."
Collegiate-level sports often involve a number of painful experiences, which may push at one's mental or physical limits. With these facts in mind, Smith and her team are hoping that the project will better verify what components of athletics might increase the capability for suicide.
The students have been recruiting college athletes at Miami to complete a battery of questionnaires that measure the participants' thoughts about pain tolerance, exercise, and other related experiences and behaviors. The students are also measuring athletes' actual pain tolerance with a device called an algometer.
"The idea is that no one will attempt suicide unless they have both a desire and capability for it," said Smith. "Ending your life is very scary and painful, and it's not something that any of us are naturally able to do. Evolution has helped see to that, that we are afraid of things that are going to take our life."
"In order to develop this ability to make a lethal attempt, you have to have a history of experiences that are painful or provocative, which end up increasing your pain tolerance and fearlessness."
College students may engage in risky or provocative behaviors, which in turn could increase their pain tolerance and/or fearlessness about death. Such behaviors are much of what the REDS Lab examines. For instance, it has found that in certain populations excessive exercise can actually have many negative mental health outcomes, including developing symptoms of exercise dependence and suicide attempts.
Both Allen and Harris agree that this experience has been greatly beneficial to their education and has helped them think more analytically. It allowed them to approach problems in a different way.
"At the end of this project, we hope to share our findings through publication and conferences," said Harris, who is minoring in both management and leadership and French. "We'd also like to reach out to the athletic department and counseling services to see if there is interest in reporting our findings."
After graduation, both students plan to pursue clinical psychology.
"I want to attend a PhD program in clinical psychology with a concentration in neuropsychology to become a clinical neuropsychologist helping individuals with neurological disorders," said Allen.
"I plan to pursue a doctoral program for clinical psychology and may decide to either continue research or open my own practice," said Harris.
"I think that a lot of people have this idea of psychologists as therapists," she added, "but there is this whole other scientific side that a lot of people may overlook."