CAS students volunteer for a community-building, life-changing experience in El Salvador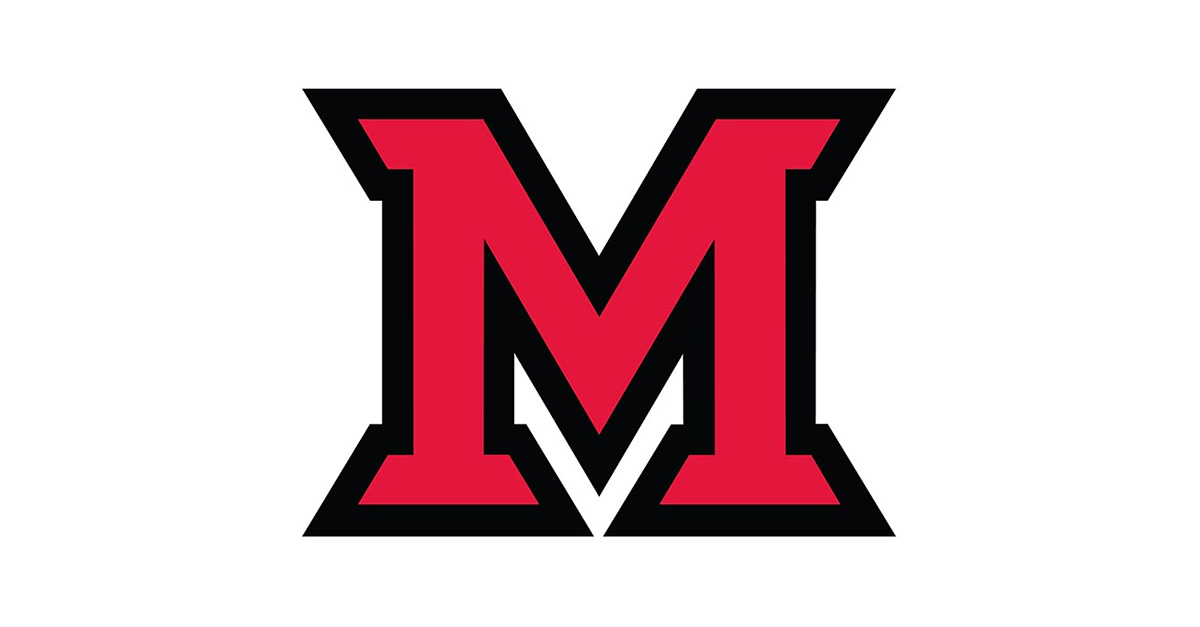 Feb 05, 2016
Written by Jason Barone, CAS director of communications
This past January, a group of 4 Miami students from the College of Arts and Science as well as two Miami alumni joined forces with other members of Habitat for Humanity to help build a 4-person home for a family in El Salvador.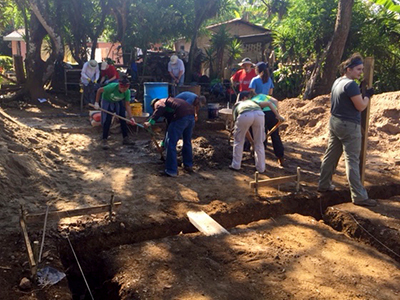 Olivia Hines (right foreground) prepares a footer while others work in the background.
The trip was coordinated through the efforts of Spanish and Speech Pathology & Audiology double-major Jennifer Tassaro, who serves as a board member for both the Miami University and Greater Cincinnati affiliates of Habitat for Humanity. Numbering 13 in all, the group traveled to the village of Canton Marquezado in El Salvador and stayed a week digging the house footers, mixing concrete, installing wire mesh infrastructure, laying rows of cinder block, and mixing and pouring the concrete sub-floor for all the rooms.
Jim Lipnickey (Miami '83), Miami's regional director of technology services, also helped organize the experience. "Our group worked really well together," he said. "The labor was extremely hard, but our group was very productive with very few resources. I think everyone would agree that this was a gratifying, life-changing experience."
Representing Miami in addition to Tassaro and Lipnickey were Monica Fernandez (Biology and Premedical Studies), Olivia Hines (Spanish, Spanish Education, and Latin American Studies), Jared Tangeman (Biology), and alum Patrick Kollmeier (Miami '12).
Besides working on the home, students took part on various excursions, such as a tour of a coffee plantation and a trip to La Laguna de Alegría, a lake in the caldera of a volcano.
"Building the house was a lot of hard work, but it was rewarding to see the progress we had made in just 5 days," said Tassaro, who is a junior. "I appreciated having the opportunity to practice my Spanish-speaking skills with native speakers. This was a great way for me to experience El Salvador and its culture while also giving back to the community."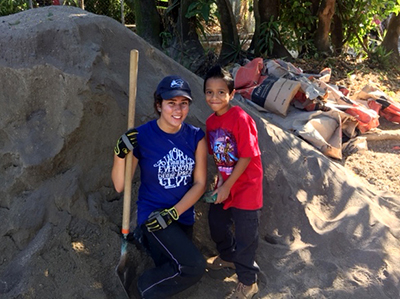 Monica Fernandez (left) and local boy Kevin take a break to pose for the camera.
Hines, also a junior with Spanish skills, was struck by the connections she made with the Salvadorian people as well. "My favorite moment of the trip occurred when we were leaving the worksite," she recalled. "There was a child named Gabriel living there, and he had some serious health issues. One of my teammates wanted to encourage him in English by saying we hoped his doctor visits would help him get what he needed, and there was a moment of silence while my teammate waited for me to translate. When I did, Gabriel's reaction was something I will never forget. It was such a powerful moment and human connection."
Hines added that she was inspired to craft her experience into an independent study for her Latin American Studies major, and she plans to complete it within the next month.
Lipnickey explained that members of the Habitat for Humanity affiliate had visited Canton Marquezado last year, so the local people were familiar with the group's accomplishments.
"We saw the finished homes of two families from last year," he said. "The families' pride in their home ownership went beyond words, and they expressed their gratitude with many thank yous, hugs, smiles, and tears of joy."
Habitat for Humanity International is a nonprofit organization that seeks to eliminate poverty housing and homelessness from the world. The organization's Miami chapter is one of the largest student-run organizations on campus and provides students with numerous opportunities to get involved. This includes weekend trips to sites in the Ohio-Indiana-Kentucky region, extended trips over winter and spring break, and numerous fundraising events throughout the year.