Miami's Ohio Writing Project celebrates 37 years of writing instruction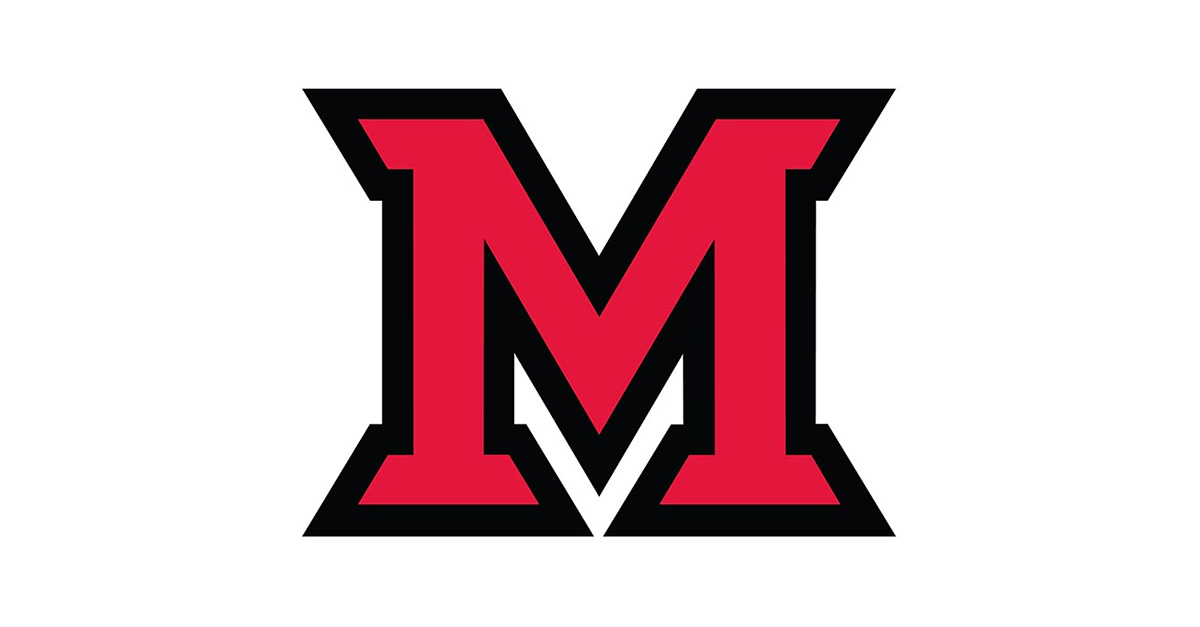 Aug 09, 2016
Written by Imani Harris, CAS communications intern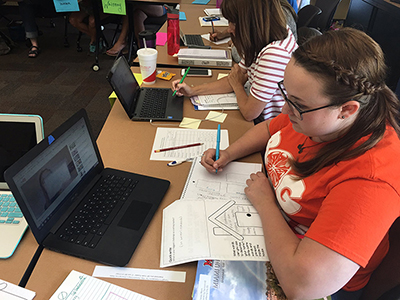 Ohio Writing Project participant tackles a writing exercise.
From June 13 to July 8, 33 K-12 teachers from all over southwest Ohio participated in Miami's 37th annual Ohio Writing Project (OWP) workshop focusing on the teaching of writing.
The OWP is one of the oldest out of the 200 sites of the National Writing Project (NWP).
"The NWP gives teachers the opportunity to study contemporary pedagogical approaches while receiving prerequisite credit toward their Master of Arts in Teaching [MAT]," said program director and professor of English Helane Androne.
Androne and co-director Angela Faulhaber organized this year's four-week program at Voice of America Learning Center (VOALC) in West Chester, Ohio.
During the Teaching of Writing workshop, teachers are able to earn six graduate credit hours, which can be applied to a MAT if they wish. They immerse themselves in the grounding principles found within the national writing method model.
"This model emphasizes that teachers are the best teachers of other teachers," said Androne. "By encouraging them to look deeper into their writing and others' writing, it bolsters their critical thinking skills."
Since the MAT program began, over 300 teachers have earned their degree through the OWP program at Miami.
"I appreciate being a part of a group of people with such a strong sense of purpose, orientation, experience, and wisdom," Faulhaber said. "All of them take this calling very seriously."
Throughout the day, the teacher "students" were asked to look at themselves as both writers and teachers of writing, taking a more critical approach and examining things beyond just grammar.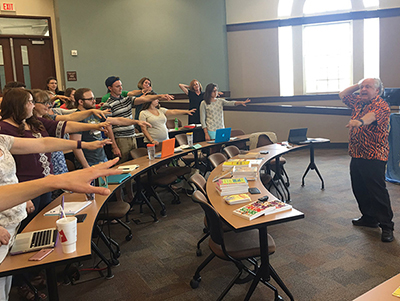 Barry Lane leads Ohio Writing Project participants in his 'literacy cabaret'.
Educator, musician, and author Barry Lane appeared as the workshop's keynote speaker and presented his celebratory and improvisational "literacy cabaret".
Teachers studied contemporary approaches to teaching writing, got the chance to explore their own writing, and shared their ideas, techniques, and thoughts with other teachers. They also received feedback on their own work.
In addition, they took a trip to Miami's Oxford campus for one day to allow them to draw from their surroundings and let it influence their writing. In this "writing flash mob" activity, they responded to inspirational writing prompts in different locations such as the Freedom Memorial, the Formal Gardens, and Armstrong Student Center.
Overall, this year's participants called the workshop "inspiring" and "life changing," with teacher Kerry Crotty from Little Miami Schools commenting, "Being in a community of writers and thinkers and writing every day has made me a better writer, a better teacher, and a better human."
Other OWP Summer Programs
Over the summer, OWP offered a multitude of other programs open for all ages to improve writing skills.
Youth Writing Camp, July 18-22, 2016; open to children in grades 5-8
Content Literacy, July 5-29
Teaching and Learning from Assessment, July 7-28
Arguing from a Text: Argument Writing and the College Ready Writers Program, July 19-21
In addition, the OWP will be holding its popular free fall teacher conference in September, and there will also be a number of collaborations with Miami's Howe Writing Center for high school teachers in the fall.
"We give teachers tools to use as soon as they walk out of here," Androne said. "These skills are already learned, practiced and used, so all teachers have left to do is apply them in their own classrooms."
"[The OWP workshop] has evolved my writing and identity as a writer, along with widening the lens through which I see writing instruction," wrote Eli Johnson, a teacher from Edgewood City Schools.
Tyne Powers, a teacher from Blanchester Local Schools, agreed, adding, "I found my voice; it changed my life."
More about all of these programs can be found on the OWP website as well as its Twitter, Facebook, and Storify pages.