2017 CAS Distinguished Educator Award honors Stephen Norris and Jason Rech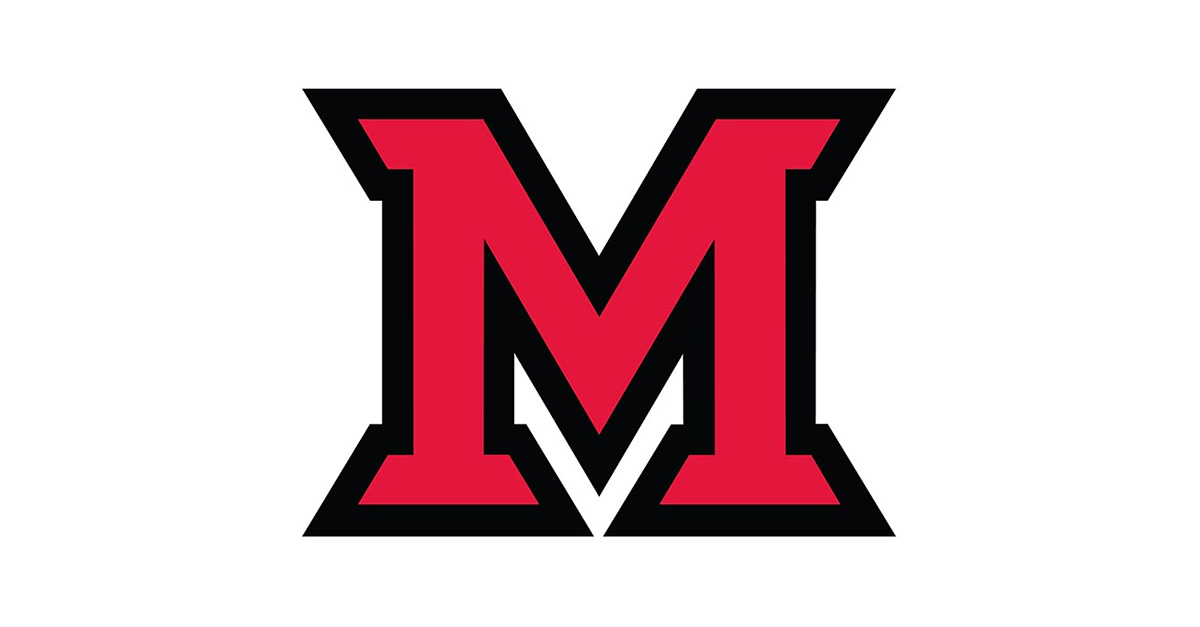 Nov 20, 2017
Written by Claire Williams, CAS communications intern

CAS professors Stephen Norris and Jason Rech have been honored by the College of Arts and Science, which every year recognizes one or two outstanding CAS faculty members for their excellence as a Distinguished Educator. It is an opportunity to highlight not only the winners themselves but also their work as teachers and mentors for their students.
Stephen Norris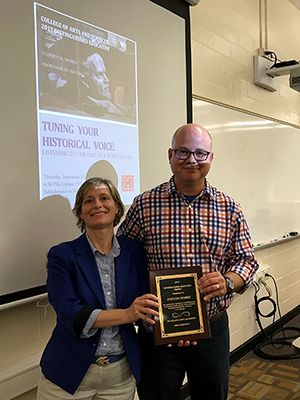 Renee Baernstein presents Stephen Norris with the CAS Distinguished Educator Award.
Norris, professor of history and interim director of the Havighurst Center for Russian and Post-Soviet Studies, has been with Miami for 16 years since arriving in the fall of 2002. His courses range from introductory world and European history to graduate seminars. He draws on sensory experiences including film, visual arts, food, space, and physical presence to lead students into past worlds and build empathy across time and space.
"I'd describe my teaching style as varied. Or perhaps organized, flexible enthusiasm. I love teaching and like to convey this enthusiasm in every class," Norris said. "Teaching helps me learn, too; I always receive new ideas, fresh ways to look at materials and much, much more from my students. It's certainly a two-way street, even if I am the primary guide."
"As a historian, I hope that students come away from all my classes knowing not just specific details and content, but an awareness that the past matters to them, often in ways they had not yet realized."
Norris has supervised the highest number of undergraduate and graduate student research projects of any current faculty member in the Department of History. He takes on a leadership role in furthering the department's strong teaching traditions.
As well as his exemplary teaching, Norris is also notable for a range of intellectual interests, having taught and published on topics ranging from the Napoleonic wars of the early 19th century to contemporary Kazakh cinema.
"We need the humanities because they provide stories and methods of storytelling," Norris said. "History, literature, religion, philosophy — these are all forms of narrative. We can't figure out where we are now as humans if we don't know where we've been."
"Steve embodies the best of the historian as narrator," said Renee Baernstein, professor of history and associate dean in the College of Arts and Science (and 2014 award recipient), when presenting Norris his award. "As a master storyteller, he gets his students to see and appreciate the depth and complexity of those stories — and they are the better for it!"
Jason Rech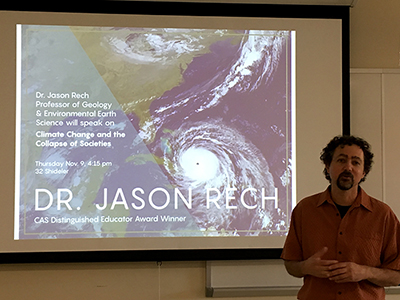 Jason Rech speaking at the CAS Distinguished Educator Awards ceremony
As a professor of geology and environmental earth science, Rech has also been at Miami since the fall of 2002. He has demonstrated his skill at building communities of engaged learners in the field.
"I think mixing it up is key," Rech said. "I like getting students outside of the classroom and 'into the field,' as we say in geology. I also like learning student's names, even in my larger classes so that they are not anonymous."
Rech takes classes outdoors as much as possible. He schedules his field trips early in the term, such as canoeing down a stream and measuring its water quality. For students who can devote more time to outings, he's offered study away and abroad courses in Switzerland, Chile, and the Miami tribe lands of Oklahoma. These sorts of experiences students remember for a lifetime, as many of his former students attest.
Ultimately, Rech wants his students to take away an understanding of science and how it is the heart of informed decision making.
"The attack on science in this country these days is truly shocking," he said. "I also want students to take away an appreciation for planet Earth, how it works, and the steps we must take to preserve the environment for future generations."
"Jason focuses on the long view in undergraduate education: getting students to understand the scientific method and how scientific consensus is built, rather than any particular scientific conclusion," said Baernstein at Rech's award presentation. "His work reminds us that quality teaching isn't just about techniques."
"Teaching is tough," Rech said. "I would say the most rewarding part, though, is when students start to put together key concepts and start asking good questions. The fun part of the natural sciences is deciphering how Earth systems work, and reconstructing Earth's history."
The College of Arts and Science congratulates both Steve Norris and Jason Rech for their brilliant and inspiring work.