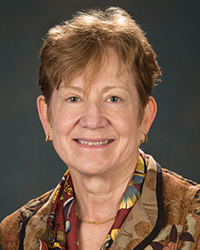 Assistant Director of Research
Senior Research Scholar
Adjunct Associate Professor, Department of Sociology & Gerontology 
Email: cumminpa@MiamiOH.edu 
Phone: 513-529-2652
Office: Upham Hall, 380
---
Phyllis's duties as a Senior Research Scholar and Assistant Director of Research include grant writing and research activities for her own work along with supporting and working collaboratively with Scripps Gerontology Center staff and Gerontology faculty in finding new research opportunities, convening meetings to respond to appropriate funding opportunities, reviewing details of the request for bids, reviewing proposals, and coordinating the required documentation that supplements the research narrative and budget.
Education
PhD, Social Gerontology, Miami University
MS, Gerontology, Florida Gulf Coast University
MBA, Finance, University of North Florida
BS, Human Performance, Florida Gulf Coast University
BS, Marketing and Real Estate, The Ohio State University
Research Interests
Work and retirement transitions, education and training for older workers, publicly sponsored employment and training programs, the role community colleges play in education and training for older adults, skill development over the life course, and economic security in retirement
Biographical Sketch
Phyllis's research foci are workforce issues for older workers, including examination of the benefits of ongoing training and workforce development and the role publicly sponsored training programs and community colleges play in facilitating work at older ages. Transitions between full-time employment and retirement have become increasingly complex and research to better understand these phenomena are of great interest to her. An important component of her research is gaining an understanding of the demographic characteristics of older workers, especially those who have experienced cumulative inequality over their life course and are at risk for economic insecurity in retirement. She is currently the lead investigator on two grants funded by the Institute of Education Sciences.  She has also been involved in several research projects funded by the Ohio Department of Aging and received funding from the National Center for Educational Statistics for a commissioned paper to examine what types and intensities of adult education and training relate to labor force participation, employment status, and income level at older ages.
Selected Publications
Dikhtyar, O., Cummins, P. A., McGrew, K., & Bahr, P. R. (2020). Strategies employed by Ohio community colleges to improve labor market outcomes for older students. Community College Journal of Research and Practice, 1-12. doi:10.1080/10668926.2020.1738289
Cummins, P. A., Brown, J. S., Bahr, P. R., & Mehri, N. (2019). Community colleges and older learners in Ohio Higher Education. Oxford, OH: Scripps Gerontology Center, Miami University.
Yamashita, T., Cummins, P. A., Millar, R. J., Sahoo, S., & Smith, T. J. (2019). Associations between motivation to learn, basic skills, and adult education and training participation among older adults in the USA. International Journal of Lifelong Education. doi:10.1080/02601370.2019.1666927
Millar, R. J., Sahoo, S., Yamashita, T., & Cummins, P. (2019). Problem solving in technology rich environments and self-rated health among adults in the U.S.: An analysis of the Program for the International Assessment of Adult Competencies. Journal of Applied Gerontology. doi:10.1177/0733464819829663
Cummins, P., Yamashita, T., Millar, R., & Sahoo, S. (2019). Problem-solving skills of the U.S. workforce and preparedness for job automation. Adult Learning, 30(3), 111-120. doi:10.1177/1045159518818407
Yamashita, T., Bardo, A. R., Liu, D., & Cummins, P. (2018). Literacy, numeracy, and health information seeking among middle-aged and older adults in the United States. Journal of Aging and Health. doi:10.177/0898264318800918
Cummins, P., Brown, J. S., Bahr, P. R., & Mehri, N. (2018). Heterogeneity of older learners in higher education. Adult Learning, 30(1), 23-33. doi:10.1177/1045159518812077
Yamashita, T., Cummins, P., & Arbogast, A. (2018). Adult competencies and employment outcomes among older workers in the United States: An analysis of the program for the international assessment of adult competencies. Adult Education Quarterly, 68(3), 235-250. doi:10.1177/0741713618773496
Cummins, P., Yamashita, T., & Arbogast, A. (2018). An examination of PIAAC data for unemployed adults aged 45-74. Commissioned paper for the Americans Institutes of Research.