Applicants to the doctoral program generally have a bachelor's degree and have earned or are in the process of completing a master's degree. Individuals with a bachelor's degree may apply to the PhD program, but if accepted are required to begin their studies by fulfilling the core requirements for the Master of Gerontological Studies (MGS) program (43 semester hours). Admission of individuals with only a bachelor's degree into the PhD program is highly competitive and relatively unusual.
Students are accepted into the doctoral program from a range of disciplines. For students who enter with a master's degree from a discipline other than gerontology, the faculty will determine which master's-level core courses must be taken as part of their doctoral studies.
The application deadline for full and part-time students is January 15 of the same calendar year in which fall enrollment is sought.
Application requirements include:
Undergraduate and, where appropriate, graduate grade point averages
General Graduate Record Exam (GRE) scores
A written professional statement
A curriculum vitae/resume
Three letters of recommendation
Undergraduate and graduate education transcripts
In order for GRE scores to reach us by the deadline, you should take the exam as early as possible in the fall semester preceding the application deadline. We recommend that you begin the application process early to be certain all your materials reach us by January 15.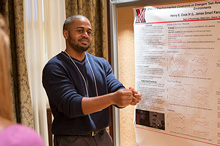 All application materials are submitted online. To get started, go to the Miami University Graduate Studies Application Page.
Do you have questions about our programs or application process? Pamela Mayberry, our Director of Academic Program Support, is here to assist you.
Contact Pamela at:
Or request info from the Graduate School: