The application deadline for full- and part-time students is January 15 of the same calendar year in which fall enrollment is sought.
Application requirements include:
Undergraduate and, where appropriate, graduate grade point averages
A written professional statement
Your resume
Three letters of recommendation
Transcripts
Submission of  General Graduate Record Exam (GRE) scores is optional for applications for Fall 2022 admission to the Miami University gerontology graduate programs. We recommend that you begin the application process early to be certain all your materials reach us by January 15.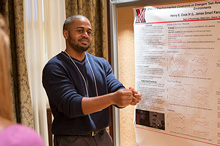 All application materials are submitted online. To get started, go to the Miami University Graduate Studies Application Page.
Do you have questions about our programs or application process? 
Contact The Scripps Gerontology Center for assistance at:
Or request info from the Graduate School: