Gerontology PhD student describes his experience at Miami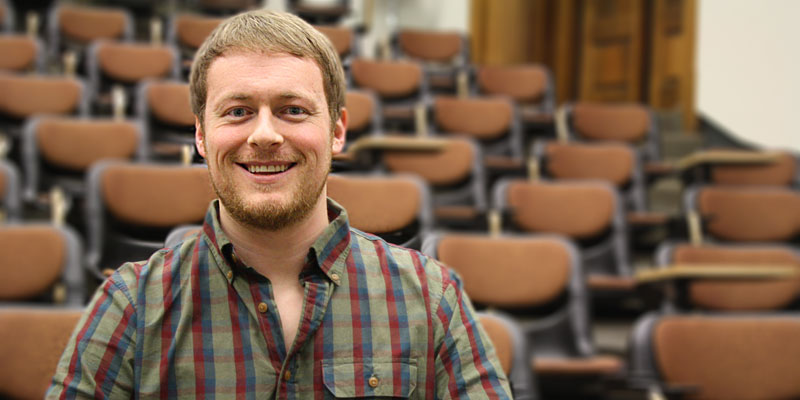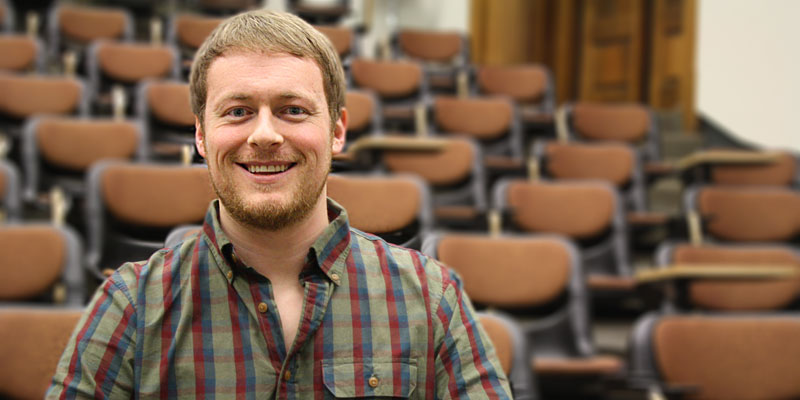 Gerontology PhD Student Anthony Bardo
Photo: Laura Hahn
Jul 07, 2014
Anthony Bardo is a third year Gerontology PhD student who recently finished his course work and is beginning his dissertation. In this short interview, Anthony describes his gerontology graduate experience at Miami University.
Anthony Bardo, MGS
Research interests: life course, subjective well-being, health, disability, culture, social policy, long-term care, media, global aging, research methods
For prospective students, how would you describe PhD-level classes at Miami?
Comprehensive and rigorous. You're expected to become well versed in quantitative and qualitative methods, as well as aging theory from both the sociological and psychological perspectives. It's a multidisciplinary experience, giving you the tools to communicate across the disciplines that comprise social gerontology.
In your opinion, what makes this program special?
I'd say the environment—the faculty, staff, and students that all come together from a multitude of different backgrounds to advance the knowledge and experience of aging.
Who have been your key faculty mentors along the way?
It's not easy to choose—all of the faculty are eager to work with PhD students and help advance their research agendas and teaching philosophies. Scott Brown has helped me become a well-rounded scholar and researcher. Bob Applebaum has helped me develop a voice in my academic writing. He's also provided an example for linking academic and applied research, which is so important in gerontology. Lee Harrington has challenged me to expand my scope of thinking and, subsequently, the range of audiences for which gerontological work is pertinent. Jennifer Kinney has promoted a sense of persistence needed for the academic writing process, and a platform from which to build a strong teaching philosophy that enables student learning.
How about peer mentors?
The PhD students in this program are truly a wealth of knowledge. One person I look to is Takashi Yamashita, an alum of our PhD program who is now a tenure-track faculty member in the Sociology Department at University of Nevada, Las Vegas. I look to his accomplishments as a model for my own work.
In your time here, you've published articles, authored book chapters, and presented at national conferences. What would you say has been the highlight?
The highlight of my time here, so far, has been using my comprehensive exam as the foundation to develop and submit an NIH R03 grant proposal as co-investigator.
How have you connected with other scholars and researchers, outside of Miami and Scripps?
The best way to connect with other scholars and researchers, for me, has been through attending and presenting at conferences—the Annual Meeting of the Gerontological Society of America, as well as others. Scholars from a variety of disciplines have been very intrigued to learn about my work, and they are impressed to see how gerontology's multidisciplinary approach can challenge and advance their own fields of study.