Findings from a survey of adult guardianships in Ohio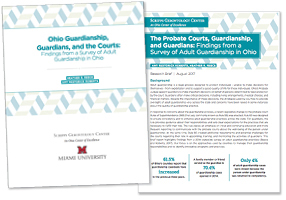 Aug 30, 2017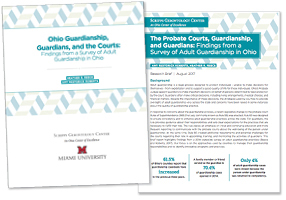 Full research report and brief are available online.
OXFORD, Ohio — Adult guardianship, managed by Ohio's Probate Courts, is a necessary strategy to promote a high quality of life while preventing the exploitation of individuals who are not capable of making decisions for themselves. Despite the importance of these decisions, the strategies used by counties to provide oversight of adult guardianship vary across the state and concerns have been raised in some instances about the quality of guardianship practice. Inspired by recent updates to improve guardianship practice (Rule 66), researchers at Miami University's Scripps Gerontology Center created and administered a survey to collect data on this important topic.
"This survey was the first of its kind, examining adult guardianship practices and the challenges faced by Ohio's probate courts in managing guardianships." said Amy Roberts, research fellow at Scripps Gerontology Center. "Information was gathered about the activities and resources currently in place to keep persons under guardianship safe and have their best interests protected."
"Our focus is on the approaches used by counties to manage their guardianship responsibilities and to identify innovative programs and practices," shared co-investigator Heather Reece.
Results of the survey have been shared in a recently published report. Key findings from the study include
62% of Ohio's counties report that guardianship caseloads increased in the last 3 years.
A family member or friend served as the guardian in seven in ten new guardianship cases opened.
4% of adult guardianship cases were closed because the person under guardianship was returned to competency.
"While our findings suggest considerable variability across the counties in terms of the number of guardianships, staffing levels within the courts, and the extent of community collaboration, promising practices have emerged to help guardians be successful in fulfilling their responsibilities in order to improve the quality of life of persons under guardianship," shared Roberts. Promising practices observed include building strong community collaborations, using volunteers creatively, and being proactive about monitoring guardianships to address obstacles.
The report is available online at MiamiOH.edu/ScrippsAging/Publications