Miami University researchers lead evaluation of AgeWell program in Cleveland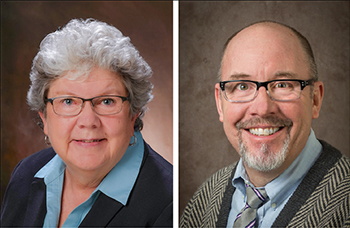 Sep 19, 2017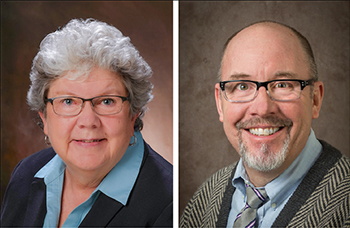 Jane Straker, director of research at Scripps Gerontology Center and Paul Flaspohler, associate professor of psychology are the lead researchers on the AgeWell program evaluation.
by AviElle Raymore
Scripps Gerontology Center is leading an evaluation of the implementation of the AgeWell Global pilot in Cleveland, Ohio. "AgeWell Global is an innovative program based on a model from South Africa that is based on the needs of chronically ill older adults and takes advantage of the skills of older adult workers," said Jane Straker, director of research at Scripps.
The AgeWell program trains and employs able older adults to provide companionship to chronically ill older adults in the community. The program aims to improve health and wellbeing outcomes through reducing isolation and identifying potential health or social problems and making referrals to the appropriate services. It also hopes to decrease medical costs through reducing hospitalizations, hospital readmissions, and emergency room visits. The AgeWell program has been successfully piloted in Cape Town, South Africa where participants had significant improvements in well-being scores throughout the time of the pilot.
"This is a pilot project where we are learning a lot about the implementation so it can be replicated in other cities," said Straker. "The Cleveland project benefits from a partnership among AgeWell, Fairhill Partners, and MetroHealth Medical Center, with longstanding records of service to the community." The project is funded by the Cleveland Foundation. Other sites currently underway include Limerick, Ireland and Fort Lauderdale, Florida.

Paul Flaspohler and Jane Straker are lead researchers, along with Matt Nelson from the Scripps Gerontology Center.  This project is funded by the Robert Wood Johnson Foundation.