Suzanne Kunkel named University Distinguished Professor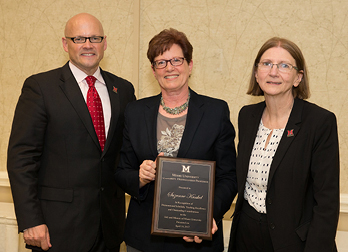 Oct 04, 2017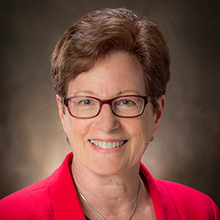 Suzanne Kunkel, PhD, executive director of Scripps Gerontology Center and professor of sociology and gerontology
Miami University's board of trustees conferred the title of University Distinguished Professor to Suzanne Kunkel, effective July 1, 2017. To be selected for this award, a faculty member must demonstrate teaching excellence, be a contributor to the life and mission of Miami University, and be a distinguished scholar of national and international stature with demonstrated recognition and with a projected high-level of scholarly productivity in the future. As part of the rigorous selection process, recognized scholars outside Miami University submit letters affirming the nominee's national and international reputation in his or her discipline. There are currently 10 Distinguished Professors at Miami.
Suzanne's extensive research, service, and teaching in the field of aging led her to be honored with this award.
Her research in demography and long-term care has been significant to the care of older adults. She has obtained over $7 million in external research grants from a variety of organizations including the Robert Wood Johnson Foundation, the Administration on Aging, and the Ohio Departments of Medicare and Medicaid.
She has published textbooks, book chapters, and numerous journal articles and conference presentations. Her service to the field includes serving as a board member of various national, state, and local aging organizations, including president of the Association for Gerontology in Higher Education and Treasurer of the Gerontological Society of America.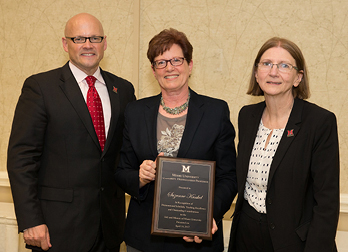 Suzanne Kunkel, with President Greg Crawford and Provost Phyllis Callahan, after receiving the Distinguished Professor Award
"I was thrilled to learn that Suzanne had been named University Distinguished Professor. She has been successful in so many roles -- leader of the Scripps organization, researcher, scholar, teacher and mentor to students," said Pamela Mayberry, director of academic program support at Scripps.
Suzanne's role as an educator is especially fulfilling to her. She appreciates that teaching allows her to continue learning, and she holds a deep commitment to collaborative learning between professor and student. "Her work as an educator is recognized nationally so I was thrilled to see her recognized at her own institution," said Jane Straker, director of research at Scripps Gerontology Center. "She is hard-working, forward-thinking, and passionate about her work as an educator and researcher, and she has passed that on to hundreds of students at Miami."
Reflecting on what the award means to her, Suzanne said, "I am, of course, deeply honored by this recognition. But I am in equal measure humbled. I am privileged to work with an amazing group of collaborative colleagues at the Scripps Gerontology Center and in our academic programs in gerontology. This award really belongs to all of us."