Quanhong Qiu to receive alumni honor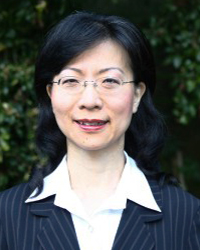 Mar 07, 2018
We are pleased to announce that Quanhong "Cho" Qiu is the recipient of the 2018 Cottrell Distinguished Alumni Award.
Quanhong Qiu graduated in 2001 from Miami University's Master of Gerontological Studies program. In January 2002 she launched a home care agency in San Francisco called Compassionate Community Care, where she is currently the Executive Director. Compassionate Community Care was recognized in San Francisco Magazine's "Best of the Bay" in 2009 and 2010 and has received a Certificate of Honor from the City of San Francisco.
Qiu will visit campus April 9 and 10 to talk with students and faculty about her work in the field of aging. The Cottrell Distinguished Alumni Award will be presented at a reception on April 9 at 5:00 p.m. in the Heritage Room of Miami University's Shriver Center. All friends of Scripps Gerontology Center are welcome and gerontology program alumni are especially encouraged to attend the reception.
RSVP to Scripps@MiamiOH.edu or 513-529-2914 if you plan to attend.