Visiting Scholar: Vitor "Yama" Chiodi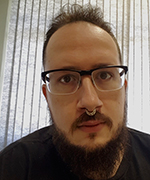 Vitor "Yama" Chiodi is a Brazilian anthropologist and artist currently at Miami University as an international visiting scholar. He has a Master's degree in Science Communication and is a PhD candidate at the University of Campinas. His PhD examines the end-of-the-world narratives through the lenses of climate changes and fungi biology.
His research interests are mainly in a place of encounters between arts, anthropology, and biology, as well as among the methodological possibilities these encounters can create. Research themes of interest include:
climate changes
multispecies studies
mycology
cinema and science fiction
scientific illustration
feminist technoscience
Yama is co-founder of the Laboratory of Fiction, Culture and Sciences (LABFICC) and member of the Laboratory for the Interdisciplinary Studies on Science and Technology (GEICT).