2015-2016 Lectures
"Children, Charioteers and Others:  A Newly Discovered Statuette of an African Auriga from Luxembourg and the Problem of Racial Categorization."
Sinclair Bell, Associate Professor of Art History in the School of Art & Design, Northern Illinois University
Lecture October 13, 2015 at 11:30am in the great Room, 212 MacMillan Hall
"Ovidian Graffiti: Love, Genre and Gender on a Wall in Pompeii" 
CIL IV 5296 is a very intriguing graffito,not only because it is one of the longest and most complex carmina Pompeiana, but also because it is, apparently, one of the few ancient documents that preserve a female poetic voice.
Luca Graverini,  'Ricercatore' of Latin Literature, University of Siena and Tytus Fellow, University of Cincinnati (fall 2015)
October 21, 2015  at 4:00pm in Irvin Hall Room 142

"Who's Naked?  Julius Caesar, Not the General, Not the 'Tyrant'--The Man of Letters"
Christopher Krebs, Associate Professor of Classics, Stanford University
November 3, 2015 at 7:00pm in Harrison Hall Room 111
Sponsored by The Humanities Center, the Department of Classics, the Department of History, the Black World Studies Program, and the Department of German, Russian, Asian and Middle Eastern Languages and Cultures
2014 Award Winners
Congratulations to the following students who were awarded prizes and honors this spring!
Bishop-Elliott Prize for excellence in Classical Humanities: Shea Hendry and Sam Fogle
Bishop Latin Prize: Karen Krumpak and Grace Clements
Elliott Greek Prize: Stephanie Krause
Henry Montgomery Scholarship for a student majoring in Classics: Yolanda O'Neill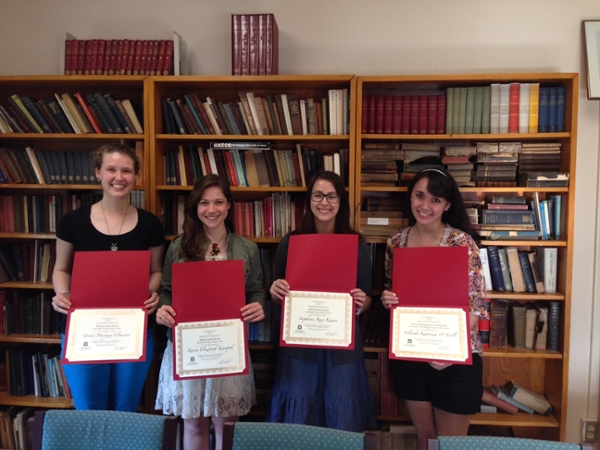 Tribute to Dr. Steve Nimis on his Retirement
Dr. Peter W. Rose

This pleasant task falls to me simply because I'm the oldest Classics Department member with the longest memory of Steve: others have retired, alas passed on, or been hauled off to jail.
My earliest recollection is of Steve's job interview talk. I was Chair at the time and don't follow sports at all, but Steve gave a dazzling semantic analysis of TV football coverage. In addition to images of the actual game, there was the analytical play-by-play by the commentators, who themselves were usually former player stars and during time-outs supplied a whole historical perspective to questions of strategy, etc. It seems to me there were other streams of communication Steve included, but my memory there falters. I just remember thinking, Wow, the students will eat this up. It also reassured me that despite the evidence already that Steve, as a Comp. Lit PhD was deeply immersed in what were then key theoretical debates, he knew perfectly well how to adjust to the specific mental equipment of his audience. If, as Chair, I had a single, overriding agenda, it was to break the Classics Department out of its isolation from other relevant disciplines. Steve's wide-ranging literary and theoretical interests fit that to a T
I learned a whole lot more about semantics and literary theory offering what input I could as Steve worked though the painful but also gratifying process of turning his thesis into a book, Narrative Semiotics in the Epic Tradition: The Simile. Let me share a few comments from an early review: Stephen Nimis combines Umberto Eco's semiotic theory with Michel Riffaterre's notion of intertextuality to argue persuasively that the simile is much more than a rhetorical ornament in the epic poem….Very admirable is Nimis's knowledgeable and adroit use of contemporary and precedent texts in weaving a credible intertext that enables him to interpret the similes he examines as social practice. His constructive use of modern scholarship is equally impressive.,,,Nimis's analysis is outstanding in the clarity of its exposition."  I think you get the idea.
Over the years Steve has been extraordinarily generous with blunt, insightful feedback on various drafts of my work. One of the oldest items in my Nimis file is a two-page single-spaced letter shredding an early draft of my chapter on the Oresteia. More recently he is the only person who read drafts of every chapter of my class book for which he offered invaluable comments.
Rather early in his stay at Miami Steve invited me—doubtless qua Chair—to dinner, not every young wife's longed-for social occasion. Maureen, however, is a wonderful cook, hostess, and, as I discovered in visiting the children's rooms—there were already three kids—a wonderful artist. She had painted very credible versions of super heroes on the bedroom walls.
Since Steve as a new instructor had a full teaching load and the book in progress, I wondered how he managed to concentrate with three bright, energetic children surrounding him. Maureen reassured me that Steve's powers of concentration were such that he could sit in the living room surrounded even by screaming children and calmly read Latin or Greek.
Screaming children or no, Maureen continued to paint and I have in my file a 9/17/92 article headlined, "Nimis Has Eye on Unusual" which details Maureen's unique transformation of furniture. I especially remember a pained King  Tut chair,--an intuitive anticipation of ancient Egypt long before the first visit. I still regret not snapping up that chair immediately
One of the real delights of living in Oxford was the opportunity to observe and interact with the marvelous Nimis children who became adults and friends in their own right. In my file is a lovely postcard of the beech at Nice from Sara where she was relaxing after the French and Italian Department's summer program in Dijon. Her interest in foreign languages—including Arabic in a major way--even led to a recent joint publication with Steve about the study and national policies concerning foreign langauges.
To some extent I felt dragged into theoretically new territory by Steve's wide-ranging theoretical interests. Early on he induced me to accompany him to a conference where one of his guiding lights, Michele Riffaterre, was speaking and was subsequently torn to pieces by a super-bright woman from Stanford, whose name alas I can't recall. Together with some colleagues in the English Department Steve became immersed in far-reaching theoretical explorations. For a while we met and read and commented on each others' works in progress. Subsequently Steve linked up with members of the French Department to guide the first and most impressive of the French Department's Irvin Lecture Series which brought to Miami such luminaries as Jean-François Lyotard, Ernesto Laclau, Chantasl Mouffe, and Jean-Joseph Goux. It resulted in a publication of which Steve was a joint editor.
Among Steve's earlier publications I'll mention one that I still occasionally get comments on at Classics conferences and which in a certain sense put the Miami Classics Department on the map. It was given an ironic title in German, Fussnoten: Das Fundament der Wissensschaft_--literally "Footnotes: the foundation of Learning—or more specifically of "scholarship." "Fundament" in English has a more elemental—not to say alimentary--meaning suggestive of the implicit scorn built into this article, which examines through several years of a prestigious classical journal the seemingly slavish compulsion to cite the work of one towering German scholar of the early part of the last century and more generally the convention of beginning a scholarly classics article with a long note—dubbed in harmony with the fundament imagery, the "pile"—citing as nearly as possible any and everything remotely relevant to one's chosen topic. A very influential book had been entitled The Tyranny of Greece Over Germany. Steve rang a kind of chiastic reversal by pointing up the tyranny of Germany over classical scholarship. All sorts of classicists who in one way or another had suffered from this tyranny blessed Steve for unmasking it.
More generally the range of Steve's scholarly interests is most impressive—not for nothing is his middle name "awesome"—They include but are no means limited to Homer, Aristotle, the ancient novel, Greek tragedy, ancient Egypt, medieval texts in the Averoes Project, the Bible, curricular development, various aspects of literary theory, and lately, even digital humanities. This last reminds me of Steve's early expertise with various computer programs—one infuriatingly complicated one he taught me many year ago. I still occasionally find an old text of mine with all sorts of weird diacritical marks recalling those challenging days.
Recently Steve's mastery of textual production has entailed teaming up with some of our more intellectually impressive and energetic students to produce a whole series of intermediate readers of Greek which have been enthusiastically endorsed by critics.
At an early point I lured Steve into one of my pet political projects—the alas failed attempt to build a faculty union at Miami. When, as President of the Miami University Faculty Association (MUFA) I reaffirmed very explicitly our intention to unionize the faculty, the central administration immediately announced that our previous practice of simply putting our newsletters in faculty mailboxes would no longer be tolerated. After some legal haggling, the administration conceded we had a right to use the university mail system to distribute our newsletters. To the considerable chagrin of the administration in a single weekend the ever-dexterous awesome Nimis typed and printed more than 800 faculty address labels on a computer program I think that--at that point--only he understood how to use. Subsequently he has at times been involved with the college Democrats.
Steve has also distinguished himself in the area of administration. He has served twice as Chair of the department of Classics (a total of sixteen years), a three year stint as Chair of the Department of Comparative Religion and served for two years in the Dean's office, gaining a unique perspective on how this place actually runs—something that remains a mystery for most of the faculty. I pass over in silence his unique trials as Chair with a trial of a chained colleague and move on to salute his generally even-handed guidance of not always the easiest group of colleagues. One of the special ordeals he had to endure at least twice was the five-year outside evaluations of departments for which the Chair has to gather tons of documents, organize many different sorts of meetings, and be personally subjected to a variety of intrusive interviews.
Steve's perspectives not only onacademic institutions but on the world have been immeasurably enhanced by his enviably extensive travels. I remember at some departmental gathering—probably in the Nimis home where he hosted at least annual student gatherings—a student asked me, "Have you ever seen Dr. Nimis's passport?" I had to confess I hadn't. The student exclaimed, "Wow, I hope I get to see so many places!" The only ones that come to mind are the Silk Road—which led to a special course sponsored by the Havighurst Center for Post-Soviet Studies—skiing in Austria, touring in Turkey and Greece, and of course repeated trips to Egypt, including a year Teaching at the American University in Cairo —and several trips with students, faculty and one administrative assistant in toe. I'm sure there are lots more places his family could add to this list. My only point is that if the cliché is true that travel broadens the minds, Steve's mind is capacious indeed.
Steve's lust for travel and exotic—not to say dangerous—places will soon take him back to Egypt, where he will again be teaching at the American University in Cairo. We all wish him an informative, consciousness-raising, and above all safe trip.
Cooperative Venture between Miami and Ohio University Classics Departments
The Classics Departments of Miami University and Ohio University are engaged in a  new cooperative venture that puts Miami and OU students virtually in the same classroom.  OU Classics Professor James Andrews is teaching a 300 level course on Greek poetry at OU with his own five students of advanced Greek, together with three Miami students, who participate in the class via teleconferencing technology.  The three Miami students, Tyler Gau, Stephanie Krause, and Joe Ostrander, join the class from Room 220 Laws Hall, where equipment and software there make it possible for them to see and hear the other students in the class, and to be seen and heard by them.  The technology also makes it possible for the instructor to display content to all the students at once, whether it is a virtual blackboard that he writes on, texts in various formats, video, or web content.  Best of all the arrangement reproduces the feeling of seminar in which students across the state can interact with each other as though they were in the same room.

The arrangement was prompted in part by the interest in making under-enrolled courses more viable at each institution.  Small classes have become targets of economizing in challenging financial times for both universities.  In the last several years, such classes have had to be cancelled or taught as an overload course.  This new arrangement is a better solution for economizing, cutting in half the number of under-enrolled or overload courses at each institution.  Although Classics Professor Stephen Nimis is the official instructor of record for the Miami students, his role this semester has been minimal and purely logisitical.  Next semester, Nimis will teach a 400 level Latin course that will include advanced Latin students from both Miami and OU, while another advanced Greek course will be offered by OU Professor William Owens.

Beyond the issue of resources, the arrangement has had pedagogical consequences that are equally significant. These students are being introduced to the advantages and problems of a technology that is destined to play a greater role in future educational and business contexts.  Students at both institutions will also now have a broader cohort of fellow classicists who share their enthusiasm for the subjects they study, as well as access to a broader range of instructors.  In fact, this last weekend Nimis and the three Miami students travelled to Athens, Ohio, for the Ohio Classical Conference that was hosted by OU.  The students from the class were able to meet each other, watched a performance of Mary Zimmerman's Metamorphoses, and participated in a conference panel on their experiences in the class.  One of the OU students, Rachel Thomas, had presented a paper last year at Miami's annual Undergraduate Classics Conference, and the OU students are already planning to come in larger numbers for this spring's conference.

In preparation for the course this fall, faculty and staff met several times over the summer to test out various hardware and software options.  Technical support from Miami's Tim Schroeder and OU's Jessica Makosky was essential for the success of the experiment.
Goldman prize winner to create open content library of Greek and Latin texts

Miami University senior Evan Hayes, recipient of the $31,000 Joanna Jackson Goldman Memorial Prize, will spend a year after graduation using his background in Latin, Greek and computer languages to create a series of twelve "reader" textbooks for students of Greek and Latin. The books will be made available both freely online in PDF format and through Amazon.com's print-on-demand (POD) subsidiary for a minimal charge.