Eric Goodman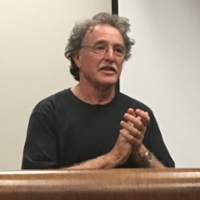 Mentor, 
Low-Residency MFA in Creative Writing
goodmaek@MiamiOH.edu
http://www.erickgoodman.com/
Education
MA in English (emphasis in Creative Writing), Stanford University, 1979
BA in English, Yale University, 1975
Teaching Interests
Creative writing
General fiction
Contemporary fiction
Creative non-fiction
Screenwriting
Modern world novel
Research Interests
Novel and short story writing
Freelance creative non-fiction
Food/travel/medical reporting
Selected Publications
Child of My Right Hand. Naperville, IL: Sourcebooks, Inc., 2004.
In Days of Awe. New York: Knopf, 1991.
The First Time I Saw Jenny Hall. New York: Morrow, 1983.
High on the Energy Bridge. New York: Holt, Rinehart, and Winston, 1980.
"Sleeper" Nimrod International, 2004.
"A Drastic Step." Good Housekeeping Mar. 2004.
"The Fruits of Summer." Saveur July-Aug. 2001.
"Medical Mistakes." Good Housekeeping Apr. 2001.
"Treasure in the Woods." Saveur July-Aug. 1999.
"The Pressure To Be Perfect." Glamour Jan. 1996: 154+.
Work in Progress
Eric Goodman has held extended residencies at The MacDowell Colony, the Ragdale Foundation, and the Headlands Center for the Arts. He has also received three Ohio Arts Council Individual Artist Awards. Goodman is currently working on a novel: Identity Thief, a love story set against the racial tensions of 2001 Cincinnati. His past publications include several short stories and over 150 non-fiction pieces in national publications including Saveur, GQ, Travel & Leisure, Los Angeles Times Sunday Magazine, Buzz, Glamour, Life, Self and Travel & Leisure Golf.