Richard Rees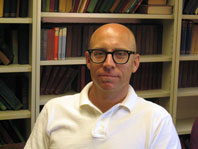 Visiting Assistant Professor

Middletown Campus
reesr@miamioh.edu
EDUCATION
Ph.D., Carnegie Mellon University, 2003
M.A, Carnegie Mellon University
B.A., Vanderbilt University
RESEARCH AND TEACHING INTERESTS
American literature
Cultural studies
Theories of race and ethnicity
The esoteric tradition in literature
Composition
SELECTED PUBLICATION
Shades of Difference: A History of Ethnicity in America. New York: Rowman & Littlefield, 2007.
"Good Will Hunting or Wild Goose Chase?: Masculinities and the Myth of Class Mobility." Journal of Narrative Technique, Fall 1999.
"Ray Stigle: Race Traitor Pioneer." Race Traitor. Summer 1996.
WORK IN PROGRESS
Rich is looking at nineteenth century transcendentalism for the ways it might have negotiated the newly emerging forms of individualism and individual identity. He is looking at some of Poe's short stories where self–destruction seems motivated by the urge for self–transcendence.