Anita Mannur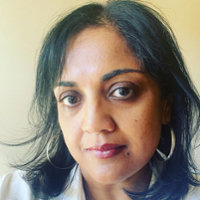 Associate Professor of English and Asian/Asian American Studies
Director, Women's, Gender and Sexuality Studies
126 Macmillan
Oxford Campus
513-549-4616
mannura@MiamiOH.edu
Education
Ph.D Comparative Literature, University of Massachusetts, Amherst, 2002
B.A. (with honors) Comparative Literature, University of Wisconsin, Madison, 1996
Teaching/Research Interests
Asian American literature and culture
South Asian diasporic literature and culture
Transnational and diaspora studies
Food studies
Gender studies
Selected Publications
Eating Asian America: A Reader. Coedited with Martin Manalansan and Robert Ku. New York University Press, 2013. "Eat Dwell Orient: Food Networks and Asian/ American Cooking Communities" Cultural Studies (Sept 2012): 1-26.
Culinary Fictions: Food in South Asian Diasporic Culture. Philadelphia: Temple UP, 2010.
"Culinary Nostalgia: Authenticity, Nationalism, and Diaspora" MELUS 32.4 (2007): 11-31.
"'Peeking Ducks' and 'Food Pornographers: Commodifying Culinary Chinese Americanness" in Culture, Commodity, Identity: Chinese Diasporic Literatures in English. Eds. Kam Louie and Tseen Khoo. Queens/ McGill Press & Hong Kong University Press, 2005.
"Model Minorities Can Cook: Fusion Cuisine in Asian America" in East Main Street: Asian American Popular Culture. Eds. Shilpa Davé, Leilani Nishime and Tasha Oren. NYU Press, 2005.
"Culinary Fictions: Race and Immigration in Asian American Literature" in After Critical Mass: New Directions in Asian American Studies. Ed. Kent A. Ono. Blackwell. 2004.
"Feeding Desire: Challenging Domestic Heteropatriarchy in South Asian Cultural Production" Journal of Commonwealth and Postcolonial Studies 10.1 (2005):34-51.
Ed."Food Matters" Special issue of Massachusetts Review. 45.3 (2004).
Theorizing Diaspora: A Reader. Coedited with Jana Evans Braziel. Malden, MA: Blackwell, 2003.
Grants and Awards
Early Career Award, Association for Asian American Studies, 2012.
Fairchild Grant for Faculty Development, Denison University, 2005–2008.
Freeman Foundation Post Doctoral Fellowship. Asian American Studies. Wesleyan University, 2003–2005.
Post Doctoral Fellowship. Asian American Studies, University of Illinois, Urbana-Champaign, 2003-2004 (declined).
Post Doctoral Fellowship. Asian American Studies, University of Illinois, Urbana-Champaign, 2002–2003.
Graduate School Fellowship. University of Massachusetts Amherst, 2001–2002.
Graduate Student Scholar Award. Children's Literature Association, May, 2000.
Work in Progress
Anita Mannur is currently working on two projects, a collection of essays and a book-length project. The first is a collection of related articles about food in South Asian and Arab American contexts. In particular she examines the  the figure of the enemy nation in contrast to the notion of comfort food by examining social media, cookbooks and food trucks that are devoted to the dissemination of culinary knowledge about "imperiled" cuisines. Her research takes me into the exploration of the realm of which cuisines are considered unpalatable within a culture of militaristic imperialism and the cultural spaces and narratives in which the figure of the enemy combatant is reimagined. Some of the sites examined are a Chicago based performance art installation called Enemy Kitchen, Pittsburgh based restaurant, Conflict Kitchen and the blog turned cookbook project, The Gaza Cookbook. Mannur is working on a book-length manuscript tentatively titled, Toxic Food  in which she examines transnational ecodisasters in the Asia Pacific region from 1945 to the present. She explore how environmental disasters and public health epidemics, real and imagined, impact foodways to produce different forms of toxicity that are exacerbated by the conditions of corporate and state biopower. Among the contexts examined are the Union Carbide/ Dow Chemical disaster in Bhopal, India, the bombing of the Marshall Islands, Hiroshima, the use of DDT in the Cambodian genocide, the SARS outbreak and the contamination of foodways following the tsunami in Japan of 3-11.