Anita Wilson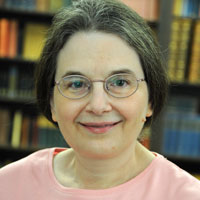 Associate Professor
377 Bachelor Hall
Oxford Campus
513-529-7133
wilsonac@MiamiOH.edu
Education
PhD, English, SUNY-Stony Brook, 1981
MA, English, State University of New York at Stony Brook
BA, Psychology, Manhattanville College
Teaching Interests
Children's literature
Victorian studies
Dickens
Childhood, identity, and culture in literature
Old English literature
Research Interests
Images of childhood in Victorian literature
The life and work of Victorian novelist Elizabeth Gaskell
Social history and children's literature of Victorian England
Selected Publications
"Elizabeth Gaskell's Subversive Icon: Motherhood and Childhood in Ruth." The Gaskell Society Journal. 17 (2002).
Private Voices: The Diaries of Elizabeth Gaskell and Sophia Holland (with John V. Chapple. St. Martin's Press, 1996).
"The Shining Garb of Wonder: Literary Fairy Tales in Mid–Victorian England." Cahiers Victoriens et Edouardiens no.37 (1993): 73-93.
"Mother and Writer: A Study of Elizabeth Gaskell's Diary." The Gaskell Society Journal7 (1993): 67-79.
"The Benevolent Forest: The Children's Literature of A.A. Milne" and "A Small World of Everyday Pleasures: A. A. Milne's Poetry for Children." Selected for reprinting inTwentieth Century Literary Criticism, eds. Jennifer Baise and Thomas Ligotti. Gale Research Publications 88 (2000): 228-233 and 240-245. Originally published inTouchstones: Reflections on the Best in Children's Literature.
"To Instruct and to Amuse: Victorian Views of Aesop's Fables." Children's Literature Association Quarterly 9.2 (1985).
Work in Progress
Images of childhood in Elizabeth Gaskell's work, which encompasses a variety of social classes and family structures in mid-Victorian England. Parent-child realtionships in traditional and alternative families; education; work and play; material aspects of childhood such as food, and housing.