Ling He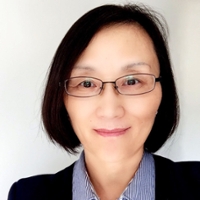 Visiting Assistant Professor
Department of English and ACE (American Cultural and English) Program
336 Bachelor Hall
Oxford Campus
513-529-2757 
ling.he@MiamiOH.edu
EDUCATION
Ph.D. Teaching English as a Second Language–L2 Writing, University of British Columbia 
M.A. Measurement, Evaluation, and Research Methodology–Language Testing and Assessment, University of British Columbia
M.Ed. Teaching and Learning Studies-ESL and Computer Education, Memorial University of Newfoundland
RESEARCH INTERESTS
L2 Writing

L2 Writing Assessment

L2 Writing Pedagogy

Multimodal Composition

Classroom Assessment

Test Validity
TEACHING INTERESTS
Academic Writing

Language Testing & Assessment 

TESOL Methods

Second Language Acquisition

Research Design/Mixed Methods
SELECTED PUBLICATIONS
"Media & Book Review: Analysing Variation in English by W. Maguire & A. McMahon." Critical Inquiry in Language Studies: An International Journal, 2013, pp.1-4.
"Topical Knowledge and ESL Writing." Language Testing, vol 29, 2012, pp. 443-464.
"ESL Students' Perceptions and Experiences of Standard English Writing Tests." Assessing Writing, vol. 13, 2008, pp. 130-149.
GRANTS AND AWARDS
Language and Literacy Education TESL Prize, University of British Columbia, 2009 

Graduate Student Mentorship Grant, University of British Columbia, 2004-2005 
WORK IN PROGRESS
Ling He has conducted a longitudinal, classroom study to explore second language writing pedagogy, particularly for first-year composition, in the past over two years. She is working on finalizing a manuscript of the primary findings of the study for a peer-reviewed journal. Meanwhile, Ling He starts another project to investigate the impact of the assessment on second language writing teaching and learning.