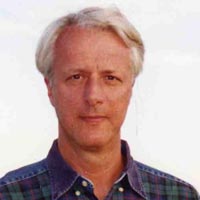 Emeritus Professor
Education
M.F.A. in English, 1975. University of Massachusetts, Amherst, MA.
B.A. with Honors in English, 1970. Trinity College, Hartford, CT.
Teaching Interests & Research Interests
Creative writing (poetry, fiction, non-fiction)
Contemporary American literature
The meditative poem
Children's literature
Creative writing pedagogy
Teaching
American Romanticism
The literary marketplace
Electronic publishing
Selected Publications
A Cat of a Different Color, a novel. New York: Dell Yearling 2001. New York: Delacorte, 2000.
The Strange and Wonderful Tale of Robert McDoodle (The Boy Who Wanted to be a Dog), a children's book in verse. New York: Simon and Schuster, 1999.
Daylight Savings, poems. Layton UT: Gibbs Smith, Inc., 1989. A Peregrine Smith Book.
Steven Spielberg's Amazing Stories. Volumes 1 and 2. New York: Charter Books, 1986.
The River, a novel base on a screenplay by Robert Dillon and Julian Barry. New York: Berkley Books, 1985.
Satyrday, a novel. New York: A Berkley/Putnam Book, G.P. Putnam's Sons, 1980. London: Souvenir Press, 1981.
Take That, Will Rogers, an essay. Dog People, ed. Michael Rosen. New York: Artisan/Workman, 1995
Fired, a short story. The Dickinson Review, Vol. IX, 1994.
Becoming a Gardener, an essay. My Poor Elephant: Twenty-Seven Male Writers at Work, ed. Eve Shelnutt. Atlanta: Longstreet Press, 1992.
Web Publications
Work in Progress
Steven Bauer is currently working on Fence, a novel about safety and limits—those that are pressed upon us by others, and ones we self-enforce—explored through the first-person narrative of a fifteen-year-old girl. He is also working on a book about the teaching of creative writing.