by Maggie Ark, CAS communications intern
The Literary London study abroad program celebrates its tenth year in 2016. The program provides students with a six-week immersive experience in the historical and contemporary city of London. Now the trip offers something new: internships. 
Literary London's founder, Associate Professor of English Literature Kaara Peterson, launched the program in 2006 because she was determined to create a program sponsored by the English department. Since then the program has remained flexible in order to fit the needs of the students participating. In 2016 select students will now have the ability to pursue independent study opportunities with businesses in London.
"We thought it would be nice to have students work in the areas that they are passionate about on a formal basis," Peterson said.
In past years, students have worked informally with small, local presses as an experiential part of their coursework, but this upcoming year internships will be officially added to the program.
Peterson says, "We see internships primarily as complementing the regular Lit London program, giving interested students a chance to enhance their London study abroad with international work experience valuable for their resumes, such as working for small London publishers (and other areas). We stress connections to our program's focus but there are other internship possibilities too."
The whole purpose of the program is to immerse students in the world of London and the addition of the internship aspect serves to add to their overall experience, especially at a professional level.
"We want it to enhance the Literary London experience, but we aren't looking to change the nature of the experience, at least not right now. It won't impinge too much on their time, but it will be added to the coursework that students will have to do for their classes," Peterson said.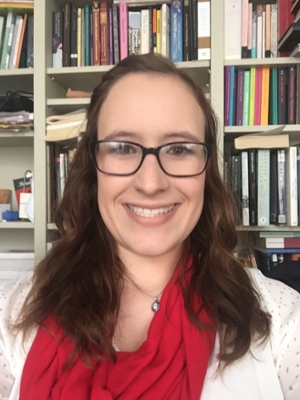 Jordan Long
Last summer, Miami junior creative writing major, Jordan Long was a stepping stone towards the addition of internships. She was the second Literary London student to spend time learning from Peirene Press. Owner Meike Ziervogel describes Peirene as "an independent, award-winning publishing house … specialising in contemporary European Literature in English translation." Long's time with the press expanded her London experience.
"My experience working in London was one of the best things I have ever done in my life," Long said. "I learned about several aspects of the career field I want to go in, and it allowed me to see how publishing functions in another country. I'm now 100% sure that I want to go into the publishing industry! Working at Peirene gave me a new appreciation for independent publishers, and one day, if possible, I would like to start my own independent publishing house. Overall, I had an amazing time and I would love to go back someday."
Long found the entire time very rewarding and complementary to her other studies: "It wasn't intrusive on my time in London. We had class Tuesday through Thursday so it was really easy to keep up with the school work and the internship. I didn't get to travel as much, because I had work on Monday. For the most part I basically sat on a couch and read manuscripts that would become books, I read and reviewed the novel that won their [Peirene Press] short story contest, I wrote summaries and rejection letters for works that were translated and were wanting to be published, I created a marketing plan for the novel Reader for Hire and assisted at a literary salon."
Find out more about the Literary London internships.