by Mariel Padilla, English Department Ambassador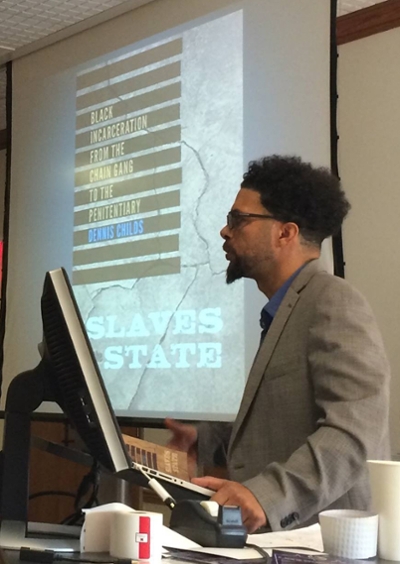 "There are 2.3 million people in US prisons. $70 billion in taxes is invested in the prison industrial complex. 70% of the prisoners are people of color with about 40% being Black. One third of black boys born today will be in prison at some point in their lives" – Dennis Childs 
The Miami English Department recently welcomed Dr. Dennis Childs, associate professor of African American Literature at UC San Diego, to discuss his book Slaves of the State: Black Incarceration from the Chain Gang to the Penitentiary.
In his lecture, Childs described the genealogy of the United States' prison industrial complex, as a "current catastrophe." From the British slave ships in the 1780s to the chain gangs in the early 1900s to the modern plantation-turned prisons, Childs outlined the progression of African Americans' plight in this country.
In Louisiana, there is a prison that was built on top of a cotton plantation called Angola Prison. The inmates are still forced to pick cotton, a phenomenon he described as a "living haunting of past as present." This prison's annual rodeo, museum, and even bed and breakfast attract tourists, romanticizing a site of historical horror and shame. Childs asked, "What does it mean to do archive work when what you're archiving isn't dead?"
Childs' lecture is especially relevant due to the current Black Lives Matter movement occurring across the nation. Sparked by police shootings of young black men such as Trayvon Martin and Mike Brown, this activist movement has become a rallying cry against racism and police violence.
"The problem is that white supremacy is an American norm," Childs said. He believes racism is still prevalent in the US on a fundamental level, normalized into the societal mindset. "There is a socially constructed crime of being born black. The crime was being born."
This deep, cultural racism begins with how we teach history. Childs differentiated between "history," with a lowercase "h," and "History," with an uppercase "H." There are many sides to a story, but in US public schools, children are only being taught one side: the white perspective. He referred to this as "historical amnesia."  
For example, when he asked the audience who freed the slaves in the US, the unanimous response was Abraham Lincoln. Childs argued that that was incorrect. "The Emancipation Proclamation didn't free Confederate states. 200,000 black men fought in the Civil War. Lincoln said himself that we might not have won the Civil War without the black soldiers."
Childs ended his lecture by advocating for the elimination of mass incarceration. Due to President Bill Clinton, prisons no longer received Pell grants and no longer offer higher education. This results in the inmates' inability to get jobs after being released. The current prison system subsequently became "a receiving and ejecting cycle." President Obama recently spoke out against mass incarceration.
First-year Aleah Holley, an audience member, said, "I thought it was refreshing to hear someone talk about something real that is not represented to students on campus, especially in an institution like Miami."
Childs sees the current prison industrial complex as a continuation and modern equivalent of slavery. The inmates are forced to work for no pay, families of prisoners are taken advantage of, and without education there seems to be no way to freedom when the crime is one's skin color. For Childs, the question is not whether African Americans in prison are guilty. The question is why are the majority of them being disproportionately punished for petty drug-related crimes while their white counterparts prosper? "So what if they're all guilty? Is the United States innocent?"
The Dennis Childs lecture was sponsored by the English Department, Black World Studies Program/GIC, Humanities Center, History Department, Center for American and World Cultures, Honors Program, and organized by Dr. Yu-Fang Cho, Associate Professor of English and GIC (Women's, Gender, and Sexuality Studies and Asian/Asian American Studies).