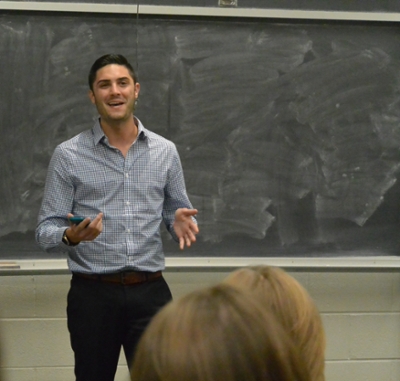 Tommy Marzella (Miami 2010), Marketing Manager at IgnitionOne 
What can you do with an English degree? Miami University English majors and minors gathered on Tuesday, November 3rd to find answers to this and other career questions at the annual Beyond Bachelor Hall event.
The panel of seven included five Miami University alumni, four of whom graduated with English degrees. The career paths represented may have surprised many of the students in attendance. These alumni panelists currently hold jobs with software and marketing companies, nonprofit groups, and career service organizations.
Two additional panelists shared their insights. Vincent Palozzi, Director of the Linguistics program at Miami, spoke about careers related to TESOL and Miami Career Services representative Mary Beth Barnes provided specific advice about what her office has to offer English majors.
The overarching message of the night was hopeful. Panelists stressed the value of written and oral communication skills. Employers are looking for English majors who can convey ideas creatively and effectively. They also emphasized the importance of remaining open to a wide variety of fields, companies, and industries. 

Kate Christoff (Miami 2003) Attorney/Law School Career Services & Professional Development Specialist
2015 Panelists
Mary Beth Barnes:

 

Senior Assistant Director and CAS Liaison, Miami Career Services
Kate Christoff (Business Administration, Finance, International Business 2003) Attorney/Law School Career Services & Professional Development Specialist
Justine Daley (Professional Writing, Psychology, & Interactive Media Studies 2014) Digital Marketing at GNGF
Justine Furbeck (English Literature 2013) Grants and Contracts Associate at Advocates for Basic Legal Equality, Inc. (ABLE) Nonprofit Organization Management
Tommy Marzella (Marketing and English Literature 2010): Marketing Manager at IgnitionOne
Vincent Palozzi: Director of Linguistics at Miami University
Andrea Wilhelm (Creative Writing 2011) Usability Researcher and Tester at Epic Software