by Maggie Thomas, CAS Communications Intern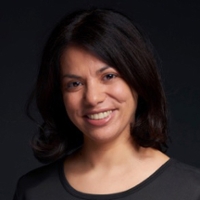 Daisy Hernández, assistant professor of creative writing, met with students and faculty last week to share her work-in-progress talk, "The Kissing Bug Disease: An American Story." The creative nonfiction work uses cultural criticism to inform the public about a disease which is commonly overlooked. The work focuses on aspects of race, citizenship, sexuality, and immigration.
Chagas disease, or the "kissing bug disease," as many people call it, affects over six million people worldwide. Hernández gave an overview of the disease, and its significant presence in Latin America. Although Chagas is largely found in Latin America, it has begun to spread throughout the United States as well. Those affected in Latin America are often part of the poor population. Hernández described victims of Chagas disease as being "kissed to death" by the parasite. Prof. Daisy Hernández
Hernández shared her personal experience with Chagas disease. Growing up, her aunt suffered from Chagas disease. Hernández recalled keeping her aunt company during this time, serving as a translator for the nurse.
After providing her audience with a general understanding of the disease, she read an excerpt from her work-in-progress. While writing the story, Hernández posed the question: "How do we choose who we take care of?"  Many patients are not treated properly, and end up dying of heart failure. Some patients aren't educated well about the disease.  "I talked to a woman in Virginia, and she didn't know she could pass it to her child," said Hernández. "It's not sexually transmitted." 
The lecture ended with graduate student, Carly Plank (MA/creative nonfiction) responding to Hernández's presentation. Plank said the work served to "demonstrate literary and journalistic elements, and a ratio between journalism and memoir." Hernández's aunt establishes a personal connection to the disease. 
Hernández is using her knowledge and experience with Chagas to create a book about patients and doctors, as they face the disease.
"As I interview patients and talk to doctors I feel myself becoming a part of the story," said Hernández. 
Find out more: Hernández has two articles in The Atlantic on the subject. She also appeared on MSNBC.