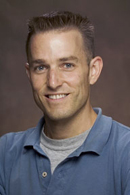 Associate Professor of History
238 Upham Hall
513-529-9297
Office hours Fall 2020:   Email for Online appointment - Google Meet prefered
Education
PhD 2003, University of Wisconsin at Madison
MA, University of Wisconsin at Madison
BA, Harvard University
Teaching and Research Interests 
Modern Europe
20th century Germany
Gender, sexuality, the body
Sports
Courses Recently Taught
HST 198 World History since 1500
HST 206 Historical Inquiry
HST 296 World History since 1945
HST 301 Age of Revolutions: Europe 1750-1850
HST 330 The German Century: Central Europe 1914-1989
HST 359 Junior Honors Colloquium
HST 400 Senior Capstone: Honors
HST 471/571 The Age of Bismarck
HST 670 Graduate Colloquium: European Modernity 1890-1930
Selected Publications 
"Female Fatigue: The Women's 800 Meters in Weimar Germany" in A Whole New Game: International Sports and the Creation of a Global Public, 1896-1989, ed. Uta Balbier and Stefan Wiederkehr (Palgrave, expected 2012).
"Sweat Equity: Sports and the Self-Made German, 1918-1933" in Weimar Culture Revisited, ed. John Williams (Palgrave-Macmillan, 2011).
Dr. Jensen's recent book, Body by Weimar: Athletes, Gender, and German Modernity, argues that competitive athletes redefined the roles and expectations of men and women in Germany in the 1920s.  (Oxford University Press, 2010).
"Between Sensationalism and Sport: Women's Boxing in Weimar Germany," American Council on Germany Fellowship E-Newsletter, no. 2, 2007.
"Images of the Ideal: Sports, Gender, and the Emergence of the Modern Body in Weimar Germany," Bulletin of the German Historical Institute, Issue 36, 2005.
"Crowd Control: Boxing Spectatorship and Social Order in Weimar Germany," Histories of Leisure, ed. Rudy Koshar, Berg, 2002.
"The Pink Triangle and Political Consciousness: Gays, Lesbians, and the Memory of Nazi Persecution," Journal of the History of Sexuality 11, nos. 1-2, 2002.
Selected Grants and Awards 
Richard M. Hunt Fellowship for the Study of German Politics, Society, and Culture, sponsored by the American Council on Germany, 2006
Work in Progress 
Dr. Jensen is currently working on a history of the Weimar Republic, Germany's turbulent and restlessly experimental democratic period between the end of World War I and the rise of the Nazi regime.  Longman Pearson will publish the book as part of its "Seminar Series in History."