About Asian/Asian American Studies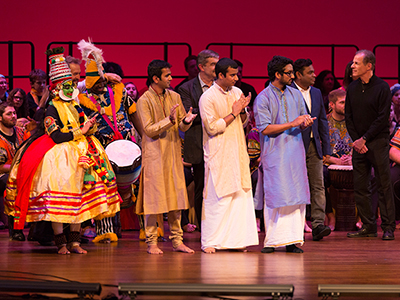 On-stage participants, Global Rhythms Concert
Asian/Asian American Studies (AAA), open to all undergraduate students, is an interdisciplinary program in the Department of Global and Intercultural Studies in the College of Arts and Science at Miami.
AAA provides a unique opportunity for students to study both Asia and Asian America with transnational and transcultural perspectives. Through a highly interdisciplinary curriculum involving both humanities and social sciences, students investigate the political, socio-cultural, historical, ethno-linguistic, artistic, and religious practices by Asian nations and Asian American communities in the United States and in the diaspora and learn to engage and understand conflicts, differences, and divisions through dialogue, advocacy, and search for common ground and interdependence.
For more information, please contact Dr. Ann Fuehrer (fuehrea@MiamiOH.edu), 126 MacMillan Hall, (513) 529-6827.