The American Studies Program is affiliated with a number of local, regional, and national institutions that offer opportunities for internships including:
McGuffey Museum
Oxford Museum Association
Butler County Historical Society
Cincinnati Museum Center
National Underground Railroad Freedom Center
Legacy Research Institute
Smithsonian Institution
Colonial Williamsburg
… among many others.
Students may sign up for an internship (AMS 340) with a local or regional institution during the academic semester of their choice, or they can participate in national internship programs located around the country for credit during the summer sessions.
Internships require 50 hours of work at the organization per semester hour; a 3-semester hour internship requires 150 hours of work at the organization.
Students work with a faculty mentor to determine how they will document their internship work. Generally students produce a final report or an internship journal.
Should you wish to use internship credits to fulfill hours in your area of concentration, you must demonstrate the connection between the internship project and your area of concentration and secure the approval of your faculty advisor.
If you are interested in internship opportunities, please contact the Director of American Studies (must be approved by the Director of American Studies in advance).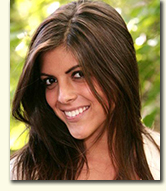 "After solidifying my majors, it was time to get some real world experience. In my mind, there was just one way to do this: internships."
Christina Kazanjian
(AMS, 2011 grad)