Americans Abroad: Heritage Tourism
May 20-June 16, 2018
Dublin, London, and Paris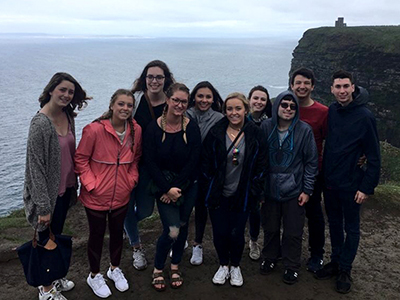 Americans Abroad: Heritage Tourism students pose at the Cliffs of Moher.
Expand your understanding of globalization and nationalism through tourism! Americans Abroad is a summer workshop offering two, 3-credit courses: AMS 207 and AMS 302 that can also serve as a possible thematic sequence option.
The courses examine American heritage tourism at some of the most popular global destinations in Europe. We will focus on how America, a nation of immigrants, has been shaped by the dynamic relationship between ancestral nations and the U.S., consider how issues of identity politics have affected this 'intercultural' exchange, and investigate the ways that host heritage countries negotiate and promote American heritage travel.
Excursions to:
Galway
Northern Ireland
Cliffs of Moher
Westminster Abbey
Tower of London
Oxford
Brighton Beach
river-banks of Paris
UNESCO
Versailles
and much more!
For more information, contact:
Alison Wanger (wangeral@MiamiOH.edu), (513) 529-3297
or
Sandra Garner, (garners2@MiamiOH.edu), (513) 529-5333
See also:
Engaging the Native American Youth: Shawnee Culture Camp
June 21-30, 2018
AMS 205 & AMS 301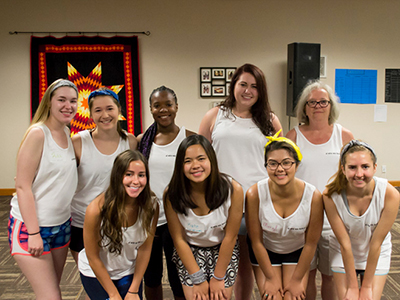 Shawnee Culture Camp participants pause for a group pose.
This faculty-led study away workshop offers students a unique service learning opportunity that provides a cultural immersion experience in a Native American community, the Eastern Shawnee Tribe of Oklahoma (ESTOO).
Students will gain cross-cultural perspectives via inter-cultural contact as they work directly with tribal members to assist at the ESTOO Youth Culture Camp.
This 6-credit workshop is open to and appropriate for all majors. The workshop can be combined with an additional course (core foundational course, see instructor) to complete a self-designed thematic sequence.
For more information, contact:
Sandra Garner, (garners2@MiamiOH.edu), (513) 529-5333
See also: