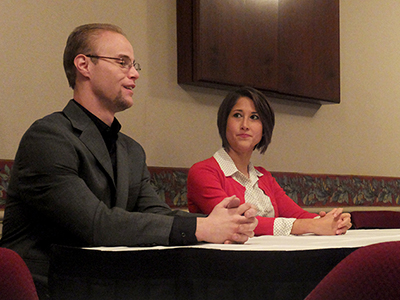 AMS alums and recent law school grads Chris Brock and Lauren Friedrich address AMS students and faculty at the Alumni Roundtable and Luncheon.
Students come away with the intellectual skills and perspective necessary to understand, contextualize, and critically engage the opportunities and challenges of our complex, changing, interdependent world. More importantly, they gain a broad contextual perspective that paves the way for meaningful and effective engagement in professional work and public life.
Students in American Studies have gained employment in:
advertising
public relations
marketing
sales
mass media
public history
cultural institutions
education
social work
government and public sector work
among many others.
They have gone on to pursue professional degrees in law, journalism, museum studies and public history, library science, and public policy; they have taken graduate degrees in academic fields such as history, literature, and American Studies.
See also: