Note: The Black World Studies major has been revised and renamed Critical Race and Ethnic Studies (Miami University General Bulletin), effective for students matriculating in Fall 2019 or later. See the CRES advisor for more information.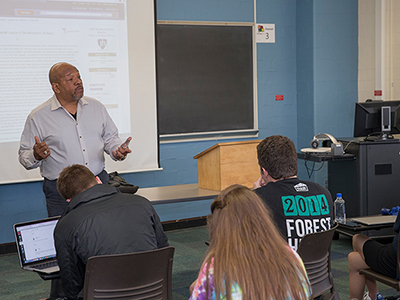 Black World Studies Professor Dr. Rodney Coates makes a point in the classroom.
To major in Black World Studies (BWS), a student must complete 34-40 semester hours with a cumulative GPA of 2.0 in the program, distributed as follows:
Introductory Course
Area Requirements (4 courses)
Additional BWS Courses (4 courses)
Writing Course
Capstone Course
Introductory Course
Either of the following may be used to fulfill the introductory course requirement:
BWS 151 - Introduction to Black World Studies (4 hours)
BWS 156 - Introduction to Africa (4 hours)
Area Requirements
Students must take at least 1 course from each of the following topic areas:
Additional BWS Courses
Students must choose 4 additional courses (Black World Studies Related Hours) from course offerings listed in the Area Requirements (above) in the program to fulfull all their requirements for the major. The Penny Lectures, independent studies, occasional seminars, tutorials, internships, and summer workshops may be used to fulfill BWS related hours. Students must seek the permission of their BWS advisor or Director prior to taking these courses or participating in these internships, tutorials and workshops if they wish to have them counted toward the Area Requirements.
Writing Course
Students must take:
BWS 211 - Writing with Purpose: Interdisciplinary Inquiry and Communication (3 hours)
Capstone Course
Either of the following may be used to fulfill the capstone requirement:
BWS/ENG/WGS 432 - Feminism and the Diaspora: U.S. Women of Color (3 hours)
BWS/SOC/SJS 470 - Social/Political Activism (3 hours)
Independent Study (up to 6 hours)
Independent Study offers students an opportunity to expand, enrich, or deepen their understanding of some aspect of Black World Studies. An independent study can be undertaken as a rigorous extension of classroom work, a course of intensive guided reading on a topic not covered in a regular course, or as a chance to do research.