Grayson Kirk Distinguished Lecture Series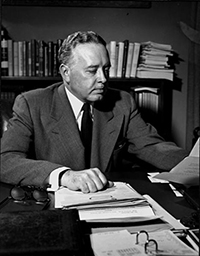 Grayson Kirk photo by Gjon Mili, ©Time, Inc.The Grayson Kirk Distinguished Lecture Series was endowed by the Tinker Foundation in honor of Dr. Grayson Kirk, Miami University class of 1924.
After graduating, Dr. Kirk went on to become one of the pioneers in developing international relations as a field of political science and served as president of Columbia University for many years. This lecture series brings in public figures and recognized scholars to address international issues.
Read more about Dr. Kirk's life in the Columbia University Record's December 5, 1997 obituary for Dr. Kirk.

Most Recent Speaker
Charles King: "Is American Nationalism Unique?"
October 9, 2017

Civic values, a nation of ideas, "e pluribus unum"—Americans typically narrate their own sense of nationhood as a grand experiment in creating a new political community out of many different creeds and cultures. American civic nationalism is often contrasted with the ethnic nationalism prevalent in European history or in societies that have experienced nationalist violence, separatism, or other forms of communal conflict, from Northern Ireland to Bosnia and beyond. But is the U.S. really exceptional when it comes to matters of national identity, belonging, and community? In this talk Charles King will examine the forgotten history of a distinctly ethnic brand of American nationalism, its influence on countries beyond the U.S. itself, and its echoes in the present.
Charles King is Professor of International Affairs and Government and chair of the Department of Government at Georgetown University. He previously served as chair of the faculty of Georgetown's Edmund A. Walsh School of Foreign Service, the country's premier school of global affairs. King's research has focused on nationalism, ethnic politics, transitions from authoritarianism, urban history, and the relationship between history and the social sciences.
He is the author or editor of seven books, including Midnight at the Pera Palace: The Birth of Modern Istanbul (W. W. Norton, 2014), which was a New York Times Editors' Choice and was awarded the French "Prix de Voyage Urbain;" Odessa: Genius and Death in a City of Dreams (W. W. Norton, 2011), which received the National Jewish Book Award; and The Ghost of Freedom: A History of the Caucasus (Oxford University Press, 2008), which was named "History Book of the Year" by the Moscow Times.
His work has been translated into more than ten languages. King has been a Fulbright scholar, a Fellow of the Woodrow Wilson Center, and a Public Scholar of the National Endowment for the Humanities. His research has been supported by the Social Science Research Council, the International Research and Exchanges Board, and the Kennan Institute for Advanced Russian Studies. He has held visiting appointments at the University of Michigan and Bosphorus University in Istanbul. He is a life member of the Council on Foreign Relations.
A frequent speaker and commentator on global affairs, King has published essays in the New York Times, Washington Post, Los Angeles Times, and other major newspapers; in magazines such as Foreign Affairs, Foreign Policy, and The New Republic; and in web-based media such as Slate, The Daily Beast, and the Christian Science Monitor. His broadcast appearances have included National Public Radio's "Morning Edition," MSNBC's "The Rachel Maddow Show," CNN, the BBC, and other venues. He is a three-time recipient of professor-of-the-year honors from Georgetown students and has received both the School of Foreign Service Dean's Medal and the McGuire Medal, the highest awards for service to the school and its students. A native of the Ozark hill country, King holds a bachelor's degree in history and philosophy from the University of Arkansas, a master's degree in Russian and East European Studies and a doctorate in Politics, both from Oxford University, where he was a British Marshall Scholar.

Past Speakers
Dr. Bruce Cumings
[February 2017] Bruce Cumings is the Gustavus F. and Ann M. Swift Distinguished Service Professor in the Department of History at the University of Chicago. His research and teaching focus on modern Korean history, 20th-century international history, US–East Asian relations, East Asian political economy, and American foreign relations. His first book, The Origins of the Korean War, won the John King Fairbank Book Award of the American Historical Association, and the second volume of this study won the Quincy Wright Book Award of the International Studies Association.
Robin Wright
[October 2016] Robin Wright is a contributing writer to The New Yorker and a joint fellow at the U.S. Institute of Peace and the Woodrow Wilson International Center for Scholars. She has reported from more than 140 countries on six continents and has covered a dozen wars and several revolutions. She is a former diplomatic correspondent for The Washington Post.
Dr. Steven Salaita
[March 2016] Steven Salaita currently serves as the Edward Said Chair of American Studies at the American University of Beirut. His latest book is Uncivil Rites: Palestine and the Limits of Academic Freedom.
Barry R. Posen
[October 2015] Barry R. Posen is Ford International Professor of Political Science at MIT, Director of the MIT Security Studies Program, and serves on the Executive Committee of Seminar XXI. His most recent book, Restraint: A New Foundation for U.S. Grand Strategy, was released in May 2014 (Cornell University Press 2014).
Sarah Chayes
[April 2015] Sarah Chayes, senior associate at the Carnegie Endowment for International Peace, is an expert in South Asia policy and the security implications of acute corruption worldwide. An award-winning NPR correspondent, Chayes served as special advisor to ISAF command and special assistant to the Chairman of the Joint Chiefs of Staff, participating in Cabinet-level decision-making on Afghanistan, Pakistan, and the Arab Spring. Her books include The Punishment of Virtue: Inside Afghanistan After the Taliban (2006) and Thieves of State: Why Corruption Threatens Global Security (2015).
Micah White, PhD
[October 2014] Micah White, Ph.D., is one of today's most innovative social activists. White is the former editor of Adbusters, the American creator of the Occupy Wall Street meme, and the inventor of the innovative debt-activism tactic known as Rolling Jubilee. He has more than 15 years of breakthrough campaign experience. White is now the founder of Boutique Activist Consultancy that specializes in anticipating the dynamics of social movement mobilization and contagion. He is currently working on a book about the future of activism.
Dr. Julia Sweig
[October 2013] Dr. Julia Sweig is the Nelson and David Rockefeller Senior fellow for Latin American Studies and Director for Latin American studies at Council on Foreign Relations (CFR). She is the author of Inside the Cuban Revolution (2002), Friendly Fire: Losing Friends and Making Enemies in the Anti-American Century (2006), and Cuba: What Everyone Needs To Know (2012).
Zainab Salbi
[April 2013] Zainab Salbi is the author of Between Two Worlds—Escape from Tyranny: Growing Up in the Shadow of Saddam (Gotham), which details her childhood in Saddam Hussein's inner circle, and The Other Side of War (National Geographic). "The Oprah Winfrey Show" has featured Ms. Salbi and her organization multiple times. Time magazine named Ms. Salbi "Innovator of the Month". Forbes gave her its 2005 Trailblazer Award.
Zha Jianying
[September 2012] Zha Jianying was born in Beijing in 1959 to a family of intellectuals (her father was a professor at the Chinese Academy of Social Sciences). In 1978, she joined the first class of students at the newly reopened Peking University (now Beijing University). In 2003, she was the recipient of a Guggenheim Fellowship in non-fiction.
Ben Wedeman
[March 2012] Ben Wedeman is CNN's senior international correspondent based in Cairo, Egypt. Since 1995, he's reported for the network from scenes of conflict and tension across the Middle East and northern Africa including Israel, Pakistan, Lebanon, the Balkans and Iraq. Wedeman was CNN's bureau chief in Cairo from 1998-2006.
Hooman Majd
[October 2011] Hooman Majd is an expert on US-Iranian Relations and the author of The Ayatollah Begs to Differ and The Ayatollahs' Democracy. Majd was born in Iran, and raised and educated in America. The son of an Iranian diplomat, and the grandson of an eminent Ayatollah, Majd has worked as an advisor and translator for two Iranian Presidents, Mohammad Khatami and Mahmoud Ahmadinejad, on their trips to the United States and the UN.
Pico Iyer
[March 2011] Pico Iyer is the author of seven works of non-fiction, including Video Night in Kathmandu, The Lady and the Monk, and The Global Soul. He has also written the novels, Cuba and the Night and Abandon. For a quarter of a century, he has been an essayist for Time magazine. His most recent book, The Open Road, describes more than 30 years of talking and traveling with the Fourteenth Dalai Lama.
Jonathan Morduch
[October 2010] Jonathan Morduch, one of the authors of Portfolios of the Poor, is professor of public policy and economics at New York University He writes and advises widely on microfinance and financial markets. He leads the Financial Access Initiative, a consortium of researchers at NYU, Harvard, Yale, and Innovations for Poverty Action. Morduch holds a Ph.D. in Economics from Harvard.
Brian Nelson and Gregory Wilpert
[March 2010] Brian Nelson and Gregory Wilpert debated controversial issues related to the presidency of Hugo Chávez. Brian Nelson is the author of The Silence and the Scorpion: The Coup against Chávez and the Making of Modern Venezuela (Nation Books, 2009). Gregory Wilpert is the editor of Venezuelanalysis.com and the author of Changing Venezuela by Taking Power: The Policies of the Chávez Presidency (Verso Books, 2007).
Nicholas Kristof
[September 2009] Nicholas Kristof, columnist for The New York Times and two-time Pulitzer Prize winner, has lived on four continents, reported on six, and traveled to more than 140 countries, plus all 50 states, every Chinese province and every main Japanese island. After joining The New York Times in 1984, initially covering economics, Mr. Kristof served as a Times correspondent in Los Angeles, Hong Kong, Beijing and Tokyo. His most recent book, co-authored with Sheryl WuDunn, is Half the Sky: Turning Oppression into Opportunity for Women Worldwide.
Raj Patel
[February 2009] Raj Patel, controversial author, journalist and food policy expert, continuously challenges our presumptions about the global food economy with his work both as a policy analyst and activist. He has worked for some of the most prestigious international organizations and protested against them, and constantly works to find ways to improve the global food system. In his newest work, Stuffed and Starved: The Hidden Battle for the World Food System, Patel discusses the growing worldwide food crisis and what needs to be done to solve it.
Steven Kinzer
[March 2008] An award-winning foreign correspondent, Kinzer spent more than 20 years with the New York Times and has reported from more than 50 countries on four continents. He is author of many books, including Crescent and Star: Turkey Between Two Worlds, All the Shah's Men: An American Coup and the Roots of Middle East Terror, and his most recent, Overthrow: America's Century of Regime Change from Hawaii to Iraq.
Andrew Bacevich
[January 2007] Andrew Bacevich is Professor of International Relations at Boston University and author of The New American Militarism. Bacevich is a 1969 graduate of West Point and a Vietnam veteran. He has criticized American foreign policy in the post Cold War era and argues that the United States has relied too often, and often unsuccessfully, on military power rather than diplomacy to achieve its foreign policy aims.
Shibley Telhami
[October 2006] Shibley Telhami is the Anwar Sadat Professor for Peace and Development at the University of Maryland and author of The Stakes. Telhami is a non-resident senior fellow at the Saban Center for Middle East Policy at the Brookings Institution, has served as adviser to the U.S. Mission to the United Nations and as a member of the U.S. delegation to the Trilateral U.S.-Israeli-Palestinian Anti-Incitement Committee.
Mark Hertsgaard
[November 2005] Hertsgaard is an American journalist, author and broadcaster. In The Eagle's Shadow: Why America Fascinates and Infuriates the World, Hertsgaard explains to Americans what the world really thinks of their nation and why. To non-Americans he explains why America is the way that it is.