International Development Concentration Requirement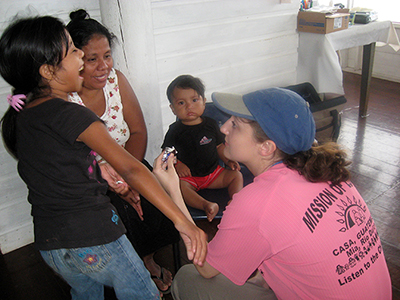 A student works with South American villagers.
International Development is a functional concentration that meets the concentration requirement for the ITS major.
Take a total of 12 semester hours from Groups A and B in the tables below, with no more than 1 course from Group B. You may take all 12 hours from group A. Distribute coursework among at least 3 different disciplines.
Group A Courses for International Development Concentration

| Course | Title | Hours |
| --- | --- | --- |
| ATH 348 | Introduction to Medical Anthropology | 3 |
| ATH 428/528 | Anthropology of Women's Health | 3 |
| ATH 448 | Developing Solutions in Global Health | 3 |
| BUS 371 | International Business | 3 |
| ECO 342 | Comparative Economic Systems | 3 |
| ECO 344 | International Economic Relations * | 3 |
| ECO 347 | Economic Development | 3 |
| ECO 441 | International Trade and Commercial Policy | 3 |
| ECO 442 | International Monetary Relations | 3 |
| ESP 461 | Small/Emerging Enterprise Consulting | 3 |
| ESP 464 | Social Entrepreneurship | 3 |
| ESP 467 | Entrepreneurship: New Ventures | 3 |
| GEO 205 | Population and Migration | 3 |
| GEO 276 | Geography of the Global Economy | 3 |
| GEO 457 | Global Cities, World Economy | 3 |
| GEO 475 | Global Periphery's Urbanization | 3 |
| GEO 476 | Global Poverty | 3 |
| ITS 302 | Problems of Non-Western Societies * | 3 |
| MGT 304 | Cross Cultural Management | 3 |
| SOC 257 | Population | 3 |
| SOC 305 | Introduction to the Sociology of Globalization | 3 |
* May not double count towards ITS core credit hours
Group B Courses for International Development Concentration

| Course | Title | Hours |
| --- | --- | --- |
| ATH 384 | Anthropology of Capitalism: Russia | 3 |
| BWS/GEO 301 | Geography of Sub-Saharan Africa | 4 |
| BWS/HST 225 | The Making of Modern Africa | 3 |
| ECO 341 | Economic History of Modern Europe | 3 |
| GEO 308 | Geography of East Asia | 3 |
| HST 331 | Industry and Empire: Europe from 1850 to 1914 | 3 |