Global Cultural Relations Concentration Requirement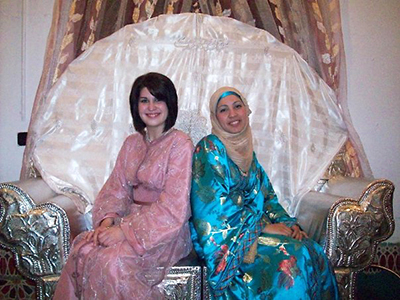 A student poses with a friend at a Moroccan wedding.
Global Cultural Relations is a functional concentration that meets the concentration requirement for the ITS major.
Take a total of 12 semester hours from Groups A and B in the tables below, with no more than 1 course from Group B. You may take all 12 hours from group A. Distribute coursework among at least 3 different disciplines.
Note: A cross-listed course can represent any one of the disciplines for which it is cross-listed. For example, POL/WGS 346 can be used for the Political Science discipline, as well as Women's, Gender, and Sexuality discipline.
Group A Courses for Global Cultural Relations Concentration
Course
Title
Hours
ATH 175
Peoples of the World
3
ATH 231
Foundations of Cultural Anthropology
3
ATH 265
Introduction to Linguistic Anthropology
3
ATH 345
Global Media, Ethnography, and Film
3
ATH 358
Travelers, Migrants, and Refugees
3
ATH 403/503
Anthropology of Religion
3
ATH 405/505
Food, Taste, Desire
3
ATH/ITS 301
Intercultural Relations *
3
ENG 369
Colonial and Postcolonial Literature
3
GIC 301
Approaches to Global and Intercultural Studies:
Globalization and Belonging
3
GTY 260
Global Aging
3
MGT 304
Cross Cultural Management
3
POL/WGS 346
Global Gender Politics
3
PSY 210
Psychology Across Cultures
3
* May not double count towards ITS core credit hours
Group B Courses for Global Cultural Relations Concentration

| Course | Title | Hours |
| --- | --- | --- |
| AMS 302 | Immigrant America | 3 |
| AMS/FST/ITL 222 | Italian American Culture | 3 |
| ATH 206/LAS 208 | Introduction to Latin America | 3 |
| ATH 305 | Latin America: Anthropological Perspectives | 3 |
| ATH 307 | The Middle East: Anthropological Perspectives | 3 |
| ATH 358 | Travelers, Migrants and Refugees: Transnational Migration and Diasporic Communities | 3 |
| ATH/BWS 366 | African Oral Traditions | 3 |
| ATH/GEO/RUS 306 | Russia and Eurasia: Anthropological Perspectives | 3 |
| BWS 209 | Civilization of Africa | 3 |
| BWS 324/HST 325 | Images of Africa | 3 |
| BWS/FST 267 | National Cinemas: African Film | 3 |
| BWS/FST/LAS 415 | Cuba in Revolution: Its History, Politics, and Culture | 4 |
| BWS/HST 224 | Africa to 1884 | 3 |
| BWS/HST 225 | The Making of Modern Africa | 3 |
| CHI/FST 264 | Chinese Cinema and Culture | 3 |
| FRE/FST/GER 265 | European Jewish Cinema | 3 |
| FST/ITL 262 | Italian Cinema | 3 |
| FST/JPN 266 | Survey of Japanese Cinema | 3 |
| FST/RUS 263 | Soviet and Post-Soviet Russian Cinema | 3 |
| FST/RUS 272 | Cultures and Identities of Eastern Europe | 3 |
| GEO 308 | Geography of East Asia | 3 |
| GEO 311 | Geography of Western Europe | 3 |
| GEO/ITS/SOC 208 | Rise of Industrialism in East Asia | 3 |
| GER 321 | Cultural Topics in German-Speaking Europe Since 1870 | 3 |
| GER 322 | Comparative Study of Everyday Culture: German-Speaking Europe and the U.S.A. | 3 |
| HST 318 | British Empire | 3 |
| HST 346 | Medieval Jewish History | 3 |
| HST 353 | History of Chinese Civilization | 3 |
| HST 354 | Modern Chinese History | 3 |
| HST 356 | Modern Japanese History | 3 |
| LAS 315 | Latin American Diaspora: Communities, Conditions and Issues | 3 |
| LAS/HST 260 | Latin America in the United States | 3 |
| POL 339 | Nationalism, Islam and Democracy in Arab Politics | 3 |
| REL 314 | Social and Religious History of the Jewish People | 3 |