Domenic Fish (Class of 2015)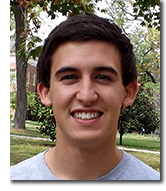 junior in International Studies (with Middle East concentration)
minors in Entrepreneurship and History
from Centerville, OH
went to Cuba for Winter Term 2014
founded Miami's local chapter of the non-profit organization, Invisible Children, after working at their San Diego headquarters
"There's a lot of emphasis on finding a job and a major that'll get you a job. Finding International Studies was one of my passions, and I think by letting your passions drive you towards something that you really care about, you'll be so much more successful in that field."
Why Miami?
"Miami has always been in my vision because I'm right from Dayton, and it was actually the first place I visited for a tour. I thought the International Studies program looked incredible, since they really focus on getting you abroad. I was also accepted into the honors program, which lets you form your own basis for what you're going to study. I really liked how liberal I could be with my own education, allowing me to focus on learning Arabic and giving me the opportunity to do a study abroad trip to the Middle East.
"I've always known basically what I wanted to study—I just hadn't known what I wanted to do with it. That's what I knew Miami would help me do, since the faculty are so accessible. Of course, during my first year, I was kind of overwhelmed at first, as a lot of freshmen are. I ended up meeting Dr. Melanie Ziegler, who was the head of the International Studies (ITS) program, and she gave me a few ideas about how I could start using my international studies major on campus immediately as a freshman. So I started a club my freshman year: the Invisible Children Club, which is chapter of a national non-profit organization which aims to help end the longest war in African history. Once I got involved in various groups on campus, my ITS major, and the honors program, I met a lot of different people and found lots of great new opportunities.
"But a huge thing that I think some Miami students take for granted is our ability to talk to faculty and staff about anything under the sun. I know that by establishing these connections, my professors understand that I'm interested in different things, so if you show your interests, they'll really respond for you. That's the prime factor as to why I came to Miami."
Best Miami Experiences
"My prime moment stemming from being at Miami was working for Invisible Children, a non-profit based in San Diego whose local chapter I started here after visiting their headquarters for an internship the summer after my freshman year. It was definitely a life-changing experience. In San Diego I worked hands-on in customer engagement, working with donors, learning about the problem, and meeting a lot of people from that affected area of the city.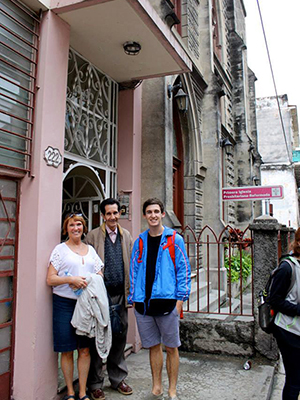 Melanie Ziegler, a friend, and Domenic Fish in Cuba
"That internship led to me having a totally different type of internship last summer for LexisNexis, which is based in Dayton. ITS is so interdisciplinary that it really allows you to go from a non-profit atmosphere to a fully for-profit business atmosphere. It's funny, because until this year I really had nothing going on in the business school other than economics, which I had to take for ITS. And now I'm an entrepreneurship minor.
"Dr. Ziegler, who I've known since first semester my freshman year, told everyone in our ITS class right off the bat that she would make herself available to talk with us about the things we could do with international studies. I participated on the Cuba in Transition [LAS/ITS 299] trip with her, Juan Carlos Albarrán, and about 20 other students in January, and it was an amazing experience. It's a testament to Miami and how willing they are to get people to the places that many other schools can't."

Miami and Liberal Arts Education
"The way I basically think the liberal arts curriculum works is that it lets you see a lot of the different aspects of the school. Here in the College of Arts and Science, I've been able to see different aspects, like anthropology, history, Latin American studies, and many other different types of things. I've really enjoyed the fact that although I'd thought they would be pretty similar, they've been very different. But again, faculty access has been incredible.
"I started Arabic because I decided to focus on the Middle East and would like to study abroad in Jordan next year. I thought it was incredible that native Arabic speakers were teaching these classes. One of my professors was from Palestine, and another was from Jordan. Both use different dialects and different cultural contexts, and they tell you about how they speak in their own nation and how it's different from others; if they were to go to a country like Morocco it'd be extremely difficult for them to even understand others even though they're speaking the same language!
"It's extremely funny how different languages kind of translate, and my liberal arts education at Miami expands my opportunities to explore a lot of different classes."
Working with Invisible Children
"I worked with Invisible Children in San Diego for three months, living in a massive house provided to the interns. There were actually 60 of us living in this house at one time! Interns came from all over the country as well as a couple from England and New Zealand. We all lived in this house and commuted by an Invisible Children van to work in downtown San Diego every day, all together.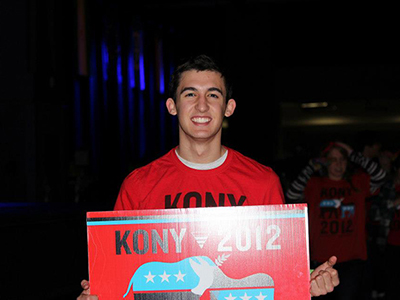 Domenic Fish poses with a Kony 2012 poster.
"At the time, Invisible Children had this highly controversial campaign going on called Kony 2012, which was a short film made to bring worldwide attention to the war crime atrocities of a rebel militia group led by Joseph Kony. That was a big one. My role was to handle all the overflow, so I was doing email responses, phone calls, whatever, froDomenic Fish poses with a Kony 2012 poster.m people that either agreed with Invisible Children or wanted their donation back. You might start with angry people, and then it'd turn into something completely different. What would have been very hard was made a little easier.
"Over three weeks we had different types of informational sessions in a very open business environment. We met with the CEO and regional directors in the field, who basically just gave us everything they knew. We did role-playing sessions to train and talk about various situations that could come up. Even today, people will still say things about the experience at Invisible Children to me at different club events because of what they remember from Kony 2012, and it's really nice to be able to inform them and show that we know our stuff."
Advice to Students
"There's a lot of emphasis on finding a job and a major that'll get you a job. Finding International Studies was one of my passions, and I think by letting your passions drive you towards something that you really care about, you'll be so much more successful in that field. ITS took me to this non-profit that I was really passionate about, which translated to business experience. If you do what you care about, it can take you to wherever you want to be.
"Be sure to look into the company that you're interested in and then figure out a way to make it work for you. If there's something that you truly want to do, you have to figure out a way. You don't have to start a club or anything like that, and you don't even have to be the smartest person—you just have to figure out a way to make yourself unique and how to articulate that. I would definitely say just being part of a club here at Miami really opened up the doors for me. Miami definitely makes it a lot easier."
[September 2013]