Kayla Strickland (Class of 2014)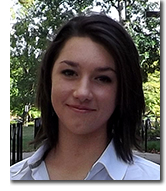 senior double major in International Studies; Latin American, Latino/a, and Caribbean Studies
minor in Political Science
from Xenia, OH
participated in a study trip to Cuba during Winter Term 2014
works at the Rec Center
"A lot of people seem to think a liberal arts education won't prepare you, but if you really apply yourself and spread out in many different directions—all of which are offered by liberal arts—then you can really learn a lot, connect it all together, and have a great knowledge base."
Why Miami?
"I transferred to Miami as a junior, and really didn't look at many schools at the time. A lot of students want to go where all their friends go, but I wanted to get a fresh start and be around completely new people. I really liked Miami when I came to visit and thought I would be comfortable here.
"Since I came in as an upperclassman, I didn't get that whole freshman experience. All the same, I was able to get to know a lot of people really fast, and it helped that I had already decided to pursue a major in International Studies. I really enjoyed speaking to Dr. Melanie Ziegler, who was the head of that program, and I was soon convinced to pick up my second major in Latin American, Latino/a, and Caribbean Studies after I met with Dr. Walt Vanderbush as well.
"During these 2 years I've dramatically improved my critical thinking skills, my writing, and how to make connections between different areas of study. After I graduate in May I want to gain experience working in the non-profit sector. I have a writing internship set up with The Borgen Project, and am looking into positions with NGOs in the U.S. and Latin America."
Best Miami Experiences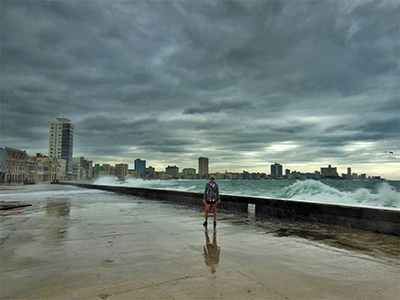 Kayla Strickland in Cuba
"The professors here are really attentive and want you to succeed. They give a lot of input into your writing and how you're doing academically, and they'll even help you get involved in different things. Professor Zeigler in ITS has been particularly helpful in encouraging me with my writing and which direction I want to go. I had no idea what I wanted to do when I came here, but she's shown me options and guided me through them. I was part of her Cuba in Transition study group to Cuba this past winter term, which was also headed by Professor Juan Carlos Albarrán, and that experience was incredibly fulfilling.
"The trip to Cuba allowed me to see past the politics of the U.S.-Cuban relationship that we had studied in depth prior to departure, and to actually learn what life is like for Cubans. Swimming in the Bay of Pigs, getting my passport stamped at customs in the Havana airport, dancing at a salsa club, speaking with taxi drivers and street vendors—just studying and reading books about Cuba will never give you the kind of impression that experiencing these things does. I definitely recommend study abroad to anyone at a university. You get language immersion and cultural experiences that you typically don't have access to in the States. The friendships that you make on study abroad trips are priceless too."
Developing Business Skills at the Rec Center
"Since I started coming to Miami, I've been working a number of different positions in Miami's Rec Center, and I've learned the ins and outs of training other people and generally how a business is run. It's been really interesting, and I'd personally go crazy if I didn't have a job! The Rec Center has been one of the constant things I've had throughout my time here, and it's taught me quite a bit.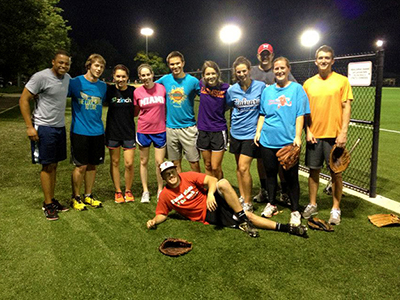 Kayla Strickland poses with the rest of her softball team.
"I'm the Informal Recreational Coordinator and Pro Shop Student Manager. As the IRC I am in charge of responding to first aid emergencies and making sure operations are running smoothly through the building. We have to be both CPR and first aid-certified. In the Pro Shop I manage a cash drawer, make sales, and sign people up for memberships.
"This job has given me a lot of responsibility, but perhaps not in the traditional way, since I'm not a kinesiology or sports medicine major. I'm in a totally different field, but I think the lessons I've learned there have definitely impacted me. I've realized that if I apply myself I can learn new things, going outside my comfort zone, and even find inspiration to train for a half marathon, which I participated in last fall."
Miami and Liberal Arts Education
"A lot of people seem to think a liberal arts education won't prepare you, but if you really apply yourself and spread out in many different directions—all of which are offered by liberal arts—then you can really learn a lot, connect it all together, and have a great knowledge base. It's a great way to develop your critical thinking and writing skills.
"One of my favorite classes at Miami was my medicinal plants class, which really was unlike anything I'd ever taken before and doesn't even fall into my 2 majors. I didn't think I would really be so interested in botany, but we learned about how plants work, how different cultures have used them, how people thousands of thousands of years ago figured out what's poisonous and what's not, and what dosage is good for you and what dosage will hurt you. We learned a lot about ethno-botany and traditional medicine, specifically from the Amazon. This course gave me a bigger appreciation for the natural world, and I would never have discovered it without the opportunities we have here in the liberal arts."
Advice to Students
"My suggestion is to take opportunities that are presented to you, especially when faculty offer them—they're reaching out to you for a reason, and they think you have potential. If it really interests you, definitely go for it. For my dual majors I remember some people were trying to talk me out of it, saying it would be too big of a workload, but I'm so glad I said 'yes' to it.
"Just say 'yes' to a lot of different things. I know we're all busy and don't have a lot of time, but I would rather say 'yes' to a lot of things and get involved in them than know I've missed opportunities while I'm on campus."
[September 2013]