Nicollette Staton (Class of 2013)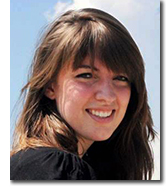 5th-year Miami student completing her geography master's thesis on human trafficking (May 2014)
graduated in May 2013 with a major in International Studies
from Batavia, OH
spent 2 months in the eastern European country of Kosovo to conduct research and teach an international studies course
learned how just the fact of being an American in Kosovo can literally open doors and gain trust
"My international experiences have really made me realize how privileged Americans are. We have a tremendous capacity to impact the world for good or for bad because of that privilege … I want to be a representative of the good that the United States can do, as opposed to the bad."
Why Miami?
"I chose Miami because as a cheerleader in high school I had done several summer cheerleading camps here. I loved the campus, and I wanted to stay nearer to home after looking at the tuition costs of being out of state. I had the perfect picture of college in my mind, and Miami fit that perfectly.
"Even though Miami is a campus of around 17,000 people, you can't walk down the street without seeing someone that you know. Everyone goes Uptown to eat at restaurants and spend the evening, so it still feels small and intimate. This feeling extends to the small classes, where you feel like you have a relationship with your professors and fellow students. There were 140 students in my graduating high school class, so I was used to that small town feel, and even though you don't know everyone there is still a strong sense of community here.
"I started my freshman year at Miami as a Physics Engineering major because I love science and was good at it, but after one semester I decided I didn't want to sit in a room and do math all day. I also considered pre-med, but I have more of a mind for chemistry and math than biology. And I realized that just because I was good at something didn't mean it was what I had to do with the rest of my life—I could be good at other things too. That's when I decided upon being an International Studies major at the end of my freshman year.
"I've always been really interested in traveling the world and learning about other cultures—at that point, I had never left the United States. International studies, to me, was mystical and exciting, and the study abroad requirement would be my opportunity to see the world. Although I had started as a hard science major, my Global Environment concentration in International Studies allowed me to maintain my passion for science while studying the world at the same time."
Best Miami Experiences
"The International Studies program at Miami has been fantastic, and I've gotten to know the professors. I started taking Professor Carl Dahlman's Political Geography in my sophomore year and enjoyed it so much that I took every class he taught. He supported my application to the combined BA/MA program to start my master's, in which I transitioned over to Geography. I'm a real workaholic—if I'm not busy I don't know what to do with myself! I like to dive into my work independently.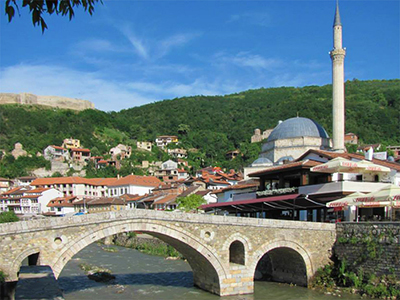 Town of Prizren, Kosovo
"I've had 3 study abroad experiences as a Miami student, and I loved all of them. The first was to Dijon, France for a 5-week intensive language program during the summer after my freshman year. The second was a 2-week experience in Dominica, a small island country of about 50,000 people in the Caribbean. I was able to go as my own independent study sponsored by the International Studies program. In Dominica we visited different ecotourism sites promoting the island's natural beauty, so we hiked to a number of areas with varying levels of sustainability. Dominica is the only Caribbean island that hasn't undergone deforestation because it's very rugged and gets hit by a lot of hurricanes. It's still quite pristine.
"I spent my third study abroad experience in Pristina, Kosovo for 2 months during the summer of 2013. I was there to do research for my master's thesis on human trafficking and also to work as an international studies TA. I had such a wonderful time there that I realized that I really want to go on and get my PhD. There were only 8 students other than myself in the program, and we all lived on one floor of a hotel together, just one big crazy dysfunctional family!"
Living and Teaching in Kosovo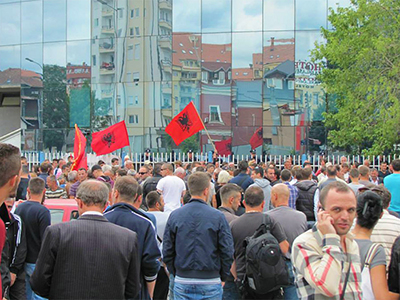 Protestors in Pristina, Kosovo
"Kosovo was at war only 13 years ago, and although there's been a lot of investment in repairs and reconstruction, in the rural parts between the larger cities you'll still see the shells of buildings. In some cases the government had received more money than they knew what to do with, so there were often new buildings with nothing inside, just completely abandoned. We also saw a huge protest in the middle of the capital, Pristina, by one of the political groups.
"Coming from the United States, it's very hard to understand the horrors of ethnic cleansing and NATO's involvement in bombing out forces in your own country. Kosovo only has 2 million people, so it's about the size of Connecticut, and in the capital, Pristina, we could even see the Kosovo president passing by on the street. We met with the ambassadors at the U.S. embassy, and they gave us access to a number of high-level Kosovo officials and regular people who came to our classes to tell us personal stories of how the war impacted them. This facilitated a lot of fascinating discussions.
"I sometimes went hiking and was often told to never leave the path, because you don't know if landmines have been cleared. We visited a park that has dedication plaques along the road telling when the area was cleared of landmines. One of them was marked May 2013, and we were there in June and July, so we were facing the reality that this landscape had just been cleared of landmines 2  months before.
I've been looking at opportunities to move back to Kosovo and have considered the Peace Corps. However, I'm really passionate about going back to Kosovo specifically, so I would want to have more influence over where I would be placed. I'd like to spend a couple years there before returning to do my PhD in either international studies or geography.
"When I was in Kosovo I realized that reading about the ethnic tensions between Albanians and Serbs in a book is much different from seeing a street sign posted in Albanian, Serbian, and English with the Serbian words crossed out—and vice versa in the Serbian areas. There's still a lot of hatred between those groups. Until you really see things like that or listen to people who had their entire families killed and still hate the other ethnic group, you can only learn so much from a book."
Being a Force of Good in the World
"My international experiences have really made me realize how privileged Americans are. We have a tremendous capacity to impact the world for good or for bad because of that privilege. In Kosovo, the Americans are viewed as saviors who bombed the Serbs out, but if you're on the other side we're seen as the bullies. I want to be a representative of the good that the United States can do, as opposed to the bad.
"I don't think there's any other country on this earth that loves America as much as Kosovo does. They celebrated the Fourth of July with fireworks and a band. Just because we were Americans the people would walk up to us on the street to talk to us. They have a statue of a waving Bill Clinton in the middle of the Pristina, and their main road is called the Bill Clinton Highway. They arguably love the United States more than many of us do. This was interesting, because in France the people seemed less excited to see Americans, and the people of Dominica were kind of neutral about it. But in Kosovo, people were more excited about the fact that I was an American, making me realize that I should take more pride in my own culture. It made me want to go out and represent America for the good that we can do.
"There was one experience that was interesting but also sad and frightening. I was doing an interview at either the UN or with Europe's Security Council, and there was a checkpoint outside the building where you have to show your ID to enter. The only ID I had was my passport. The guard and I were stumbling through, with me trying to speak Albanian and him using English and both of us doing some kind of sign language, and as soon as I pulled out my passport he was like, 'Oh, you're American!' and just let me walk right in. Completely, skip security and everything. Once you showed that eagle on your passport, it was pretty much a free door to come in and do whatever you wanted. It was somewhat frightening that they have that level of trust in anyone with a U.S. passport, holding the assumption that you're here to do something good, that you're trustworthy. It's another reason why I wanted to represent myself and my country well while understanding that this region has 800 years of culture and history."
Miami and Liberal Arts Education
"Each year I feel like 75% of the entering class are pre-med majors and the other 25% are law or business. Everyone's going into the kind of jobs that they know are going to pay well. In my view, I don't know what I'd do without a liberal arts education. I feel it gently forces students to expand their horizons, sometimes helping them realize their true passions instead of what they think they're passionate about.
"That was my experience, so I think that liberal arts opens people's eyes to new things. At first I thought I sucked at English and didn't like writing, but after taking different courses I realized that I am better at many things than I thought. I might not have pursued this if it hadn't been for the requirements outside of my major.
"Liberal arts has made me believe that my career exists outside of this country, and my experience in Kosovo definitely prepared me. The most valuable thing that my Miami education, particularly my international studies and my study abroad trips, has given me is a better understanding and acceptance of all different types of people. It's comparatively easy to be accepting here at home, where even people that are completely different from me still have that shared experience of the United States, but learning how to navigate cultural differences and develop communication and language skills is essential overseas.
"For example, I went to Istanbul one weekend, and although I speak no Turkish I could navigate the city and generally try to get to know people—everyone has a story to tell. Kosovo really hammered that home for me. Everyone I met had a really interesting past, and most people love to talk about themselves. If you just talk to them you can learn so much, getting perhaps a meta-like impression of the narrative of their country through their personal experiences.
"I think if I was placed in any country I'd feel confident in learning the cultural norms and essential phrases for getting by and being polite. It's a really fantastic and important skill, no matter what you're going into—even in America you still need to learn the cultural norms of your workplace and how to integrate yourself into new experiences."
Advice to Students
"When it comes to realizing your passions, I recommend students to follow them and be willing to change and adapt to what they're learning. It's important to realize that everything is interconnected. In the same semester, for example, I took history, geography, international studies, economics, and politics. The same topic was on all my exams for all classes. Realizing that the world is so interconnected makes it clear to me that liberal arts education brings all that to the forefront. What you're learning in biology can be related to economics and politics; everything is interrelated. It's not just a certain discipline in complete solidarity by itself.
"The other thing I suggest is to stay busy and get involved. I really like hiking, hammocking, and rock climbing; Miami's not extremely mountainous, but we have a lot of nice hills and hiking trails nearby. Really taking advantage of these outdoor things and getting involved in organizations on campus means there's something meaningful you can do pretty much every day. All of this helps to make the campus feel smaller and friendlier—it's part of what makes Miami so special."
[September 2013]