Abigail Goldman (Class of 2017)
junior double major in International Studies and French
from Centerville, OH
Chair of Miami's St. Jude Up 'til Dawn student organization
studied immersive French in Dijon, France in summer 2014
"Go abroad! You don't know how much you don't know about the world and other people and different cultures until you go on a study abroad trip. There are things you can't learn in the classroom. As hard as you try, as good as your teachers are, there are just things you won't know until you get out there and see it for yourself."
Why Miami?
"I was really torn between here and OSU, but what I think ultimately tipped me towards Miami was that it's really focused on undergrad education, and I don't think you can really get that at huge research schools. I really liked that I wouldn't be just another number.
"I really like the teachers at Miami so far. They've all been really understanding and compassionate and dedicated to what they do. They've all said, 'Even though I'm really busy and I have tons of things to do, I would always rather be here talking to you guys.' Students are generally their first priority. They care. They want to get to know them as people, and I really appreciate that.
"In the International Studies Program, Melanie Ziegler and Carl Dahlman are awesome people to have in your corner. Mark McKinney and Jonathan Strauss in the Department of French & Italian and Andrew Casper in Art History have also been super informative and helpful.
"There are plenty of students and faculty who have the same interests and passions that you do. It's really exciting when you meet people who are in your same line of study who you really click with on an intellectual level.
"My major was definitely a bit of a happy accident. I came in with an International Studies major because it was broad and I wasn't quite sure what I wanted to do yet, but I ended up loving it. I've always enjoyed learning about different places in the world and the international system and how that works, but I didn't ever think I'd make a career out of it. It was interesting, so I thought I'd start out in international studies and then see if I could find something else, but nothing has interested me more!"
Best Miami Experiences
"I studied abroad in the summer of 2014 in Dijon on a French summer intensive program. It was only for five weeks, but it was amazing and I'm looking forward to going abroad again for a semester in Spring 2016.
"I had never been out of the country before and knew that I wanted to go for a semester, but I also wanted to do something for a shorter amount of time just to become more acclimated to the environment before I hopped on a plane by myself for four months. And so I think my summer experience was a really good option, because it was still faculty-led, and I was going with kids from Miami. I also chose it because it's a French immersion program. This will be my ninth or tenth year studying French. I was ready to go, and this was the opportunity."
French Immersion Study in France
"I liked the fact that we were in a secondary city, Dijon, not a huge city like Paris, so we really got to know some of the local students who lived with us. In Paris, you don't just stop and talk to someone on the street because everyone has somewhere they need to go. I loved Paris, but it's just not necessarily a place where you get a full immersive experience, because they want to speak English back to you when they realize you're American. But in Dijon, we had a choice because people didn't really speak much English. Our group was all Miami students led by Mark McKinney, but we stayed in dorms with mostly French students.
"In Dijon they don't get very many American tourists. A lot of people were British or non-local French tourists. The people of Dijon were really interested in us. They were obsessed with American music and movies and things like that. I remember one kid in particular—he was a food delivery guy, and he was dying to practice his English with us!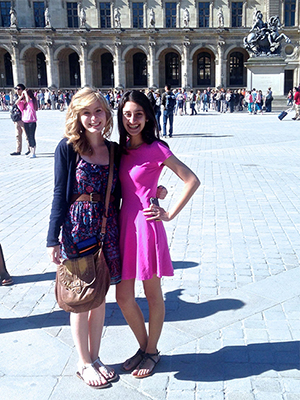 Abigail Goldman and a friend pose in front of the Louvre in Paris, France.
"Every Friday we would go on a field trip, which was an excursion that lasted pretty much all day. One week we went to see this breathtaking little hilltop town called Vézelay, and that was one of my favorite places. We saw some castles and went to a lot of museums that had content related to what we were studying.
"There were three classes: Conversation and Current Events, Art and Architecture History, and Civilization and History. For example, I went with a small group to the Museum of Fine Arts in Dijon to see things that we were talking about in class. We had to write a paper on some sort of event from French history, and I wrote it on the French national anthem as well as the sculpture that illustrates the lines in the poem from the national anthem. When we went to Paris I got to see this sculpture in person, so it was cool to use my own photos as references."

Miami and the Liberal Arts
"The main thing about the liberal arts is that I've learned to think critically about situations and consider them in a more well-rounded manner. In Dijon we had to take a French civilization class, so we learned about different conflicts and different wars, and I think I had a good grasp on the material because I had that international studies background.
"I'm sure you have to think somewhat critically in business, but it's not the same well-rounded approach. A lot of it seems black or white, but most of the world is gray, and so that's why I think it's important to study liberal arts.
"The first instinct of many Miami students is probably to go to the business school because there's a profitable end result in sight, but I would choose a liberal arts major because I think it's exciting to have so many options and to not know exactly know where you're going at first. I feel like it's an exciting journey, and there are so many options to discover. Even though it can be overwhelming, I can't imagine being pigeonholed into one career option.
"For example, I took political geography last semester with Professor Dahlman, and it was really interesting. People argue about how geography is dead because the map has already been drawn, but that couldn't be any more false. I really liked learning more about how big of an impact geography has on the current world order, and I wouldn't have learned this in a business class."
Advice for Students
"Go abroad! You don't know how much you don't know about the world and other people and different cultures until you go on a study abroad trip. There are things you can't learn in the classroom. As hard as you try, as good as your teachers are, there are just things you won't know until you get out there and see it for yourself."
[January 2015]