Ali Preissing (Class of 2017)
junior triple major in International Studies, Political Science, and Italian Studies
minor in Linguistics
from Arlington Heights, IL
tour guide for the Office of Admissions
studied abroad in Italy twice and participated in Miami's Undergraduate Summer Scholars program
aspires to a career within the United Nations, the European Union, or an American embassy in Italy, as well as a humanitarian aid organization

The best advice I can give is to spend your time being adventurous instead of being afraid. Remain open-minded and accept the fact that it is going to change you!

Why Miami?
"Miami offered a very holistic style of learning that really appealed to me while I was in the application process.
"I actually have a funny story about choosing a college. I applied to 20 different schools and took tours of them all, except Miami. When my parents suggested that I tour the campus, at first I thought it was a brilliant idea because I mistakenly thought they meant Miami, Florida! When I found out they meant Miami University of Ohio, my first thought was that there was no way I was going to see a school in the middle of nowhere. But I ending up getting out of the car and being shocked at how beautiful the campus was.
"Additionally, I learned that Miami has programs for both Italian Studies and International Studies, which I had already been interested in. Likewise, I'd always loved hockey, wished for Greek life, and craved a traditional college town. Miami had everything I'd ever wanted and more within one school, and at an affordable price too. And although the drive back home to Chicago is 6 hours, it feels like a short distance due to how much of a home Miami has become!"
Best Miami Experiences
"If I was ever given the chance, I would go back to freshman year in a heartbeat! I'm currently a tour guide for Miami's Office of Admissions, and just the other day I was telling my group about how wonderful freshman year is and how much I wish I could go through it all over again.
"Although this may sound cliché, the people are definitely what I love most about Miami. From my best friends, to my sorority sisters, professors, and the hockey players, everyone here is so nice. Additionally, what I love is the fact that everyone has the mentality of working really hard to get good grades, but also having a ton of fun along the way.
"Miami really sets the environment of the campus to be an awesome experience for everyone. Never in my life have I been so competitive with others, yet I'm competing in a healthy and rewarding way. I choose to make myself better here because of the awesome things I notice people accomplishing.
"For example, a sorority sister of mine just completed an amazing research project on a particular protein within the AIDS virus, which has encouraged me to excel in my own academics. I see all of the impressive things that my peers do around campus and it makes me want to be a better person for myself and others.
"Of course, this also proves true for the faculty, as well. I have an International Studies professor named Melanie Ziegler, who has really helped me focus upon what I want to do within my career. I took a course with her that examined different rogue states that go against American foreign policy. This class showed me what I really want to do, and whenever stress gets the best of me she and many other professors have given me the best possible guidance and direction.
"I always knew that I wanted to use the Italian language within an international context, but what I wasn't expecting to pursue was the political aspect of it. As I was taking courses within my International Studies major I found myself strongly drawn to the topics of international relations and global cooperation among countries. This led me to Political Science, which happened to be a big piece of what I had been missing. I'm glad that I was exposed to that area of study, and I began incorporating it as my third major during the second semester of my freshman year."
Miami and the Liberal Arts
"Undoubtedly, my experience at Miami has given me an open mindset, especially in terms of all the people I've met and courses I've taken. The fact that Miami focuses on a liberal arts education forces you to go well outside of your major.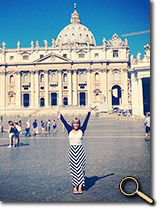 "Personally, I view this as a great benefit because it gives me a vast knowledge on subjects that I wouldn't have gotten access to otherwise. It can be so easy to get caught up in one perspective, but due to the fact that the liberal arts are so fluid and difficult to define, students are exposed to many diverse areas of study beyond the confines of their major. As a result, these multiple perspectives can be highly rewarding.
"Having such a wide perspective will also allow me to deal with all of the different situations, circumstances, and people that I encounter in a variety of ways throughout life. This is by far the best gift that my college experience at Miami has given to me. In addition, I've benefitted from all of the career preparation tools offered through outlets like Career Services, which complement the individual foundation I've already developed in terms of unique mental capabilities, cognitive skills, and personality.
"My three majors continue to inspire me, and often I find myself confronting fascinating issues in the modern world. For example, I find myself looking at global regions built on war and civil conflict, and I can't help but ask myself questions like, "Why is it so easy to build a bomb, yet so hard to construct a school?"
"To sum it up, my majors motivate and prepare me in the desire to change the world. I know I'm only one individual, but at the end of the day all you need is one person to speak out in order to initiate change. There're so many things that I want to do, but more than anything I want to make people's lives better, and I believe that my triple major is a great way to do that.
"These areas of study also help me find a way to be very personal by giving me the tools and inspiration I need to make the world a better place. For me, a future career has never been about money, but rather experiences and the chance to positively affect as many people as possible."
Conducting Research in Italy on the European Refugee Crisis
"So far I've been fortunate to study abroad twice through Miami. The first trip I made was to Italy during the summer after my freshman year. I learned of the experience through the Department of French & Italian, which informed me that it would take place in the small city of Urbino.
"When I stayed in Urbino, not only did my Italian get a lot better, but I also met some of the best friends that I could have possibly imagined. However, the most important realization that I got out of my initial trip to Italy was that I wanted to conduct research under a grant program through Miami called Undergraduate Summer Scholars. I ended up getting the grant and made the decision to travel to Italy again, although this time by myself, in order to research the refugee and migrant crisis which is currently plaguing Europe.
"My second experience in Italy was absolutely fascinating because it presented me with the chance to interview native Italians, as well as migrants from the Middle East and Northern Africa. They told me about so many of their struggles, stories, and experiences with the limited English and Italian they knew, which ended up being a rewarding challenge that we were able to meet on both ends.
"Eventually, I ended up composing a 60-page paper on my research which my advisor, Sheldon Anderson, did a phenomenal job mentoring me through. I feel fortunate that Miami believed in me enough to present me with that grant. I was able to provide a successful report that reflected all the unforgettable things I learned from both Italians and migrants seeking a better life."
Advice for Students
"It's very possible that you may have to study abroad for a semester away from family and friends in a country whose language and culture is foreign to you. Perhaps, you'll even be required to take a course on a topic that makes you uneasy, such as genocide. No matter what you set out to do, embrace these opportunities. If you go in with a thoughtful mind that's adaptable to new possibilities, it will make whatever experience you're undertaking so much better.
"Furthermore, don't let the fear of negative outcomes hold you back from pursuing particular opportunities. For instance, I never imagined that I would have gotten my Undergraduate Summer Scholars research grant, especially as a sophomore, while competing against a number of other students.
"In the end, not only did that opportunity take me abroad, but now I have an amazing experience to put on my resume and enjoy in my memory. Accumulating experiences and accomplishments are the things that will set you apart!"
[October 2015]