Emily Tate (Class of 2016)
senior double major in International Studies and Journalism
minor in Latin American Studies
from Nashville, TN
Managing Editor of The Miami Student
went to New Zealand with Miami's Outdoor Pursuit Center (summer 2013)
went to Cuba with the Latin American Studies program (January 2015)
worked with homeless teenagers in Pietermaritzburg, South Africa (summer 2014; spring 2016)

I've found it incredibly interesting to live in a different part of the world on several occasions. In study abroad experiences, you still are studying, but in one case I lived for three months in another hemisphere, in the same conditions as the local people, eating the same food, and really feeling like I was a real part of their world for a while.

Why Miami?
"I grew up in Tennessee and wanted to go to college out of state. My family and I decided to stop by Miami as we made our way to Ohio on a beautiful summer day, and a woman in Admissions gave us a campus tour.
"She went into detail about Miami's study abroad options, which definitely piqued my interest because a major in International Studies was already on my radar. I also liked that Miami has a decent amount of out-of-state students. I later came back for Make It Miami, which sold it for me.
"Coming to Miami was the right decision, but I didn't know a single person at first. My freshman year involved a lot of soul-searching. A big turning point was when I decided to go on the Outdoor Pursuit Center's trip to New Zealand during the summer after my first year.
"Going to New Zealand was my first time traveling without my family — and my first time leaving the continent. Traveling far away helped me feel truly independent and on my own. I really connected with the others in the group and fell in love with the country."
Best Miami Experiences
"New Zealand was definitely one of the cornerstones of my college career — as were all of my study abroad experiences. For a long time, I've expected I would go into some kind of humanitarian work or international development, and my heart is definitely still in that.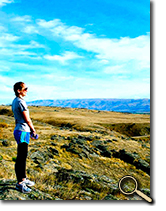 "International studies professors at Miami all have a regional focus — an area of the world that they are really passionate about. Melanie Ziegler has Cuba; Carl Dahlman has eastern Europe and Kosovo and the Balkans; Charlie Stevens has the South Pacific. When your professors use case studies and personal experience to complement the coursework, little by little you gain more context for what the big picture is.
"I also developed an interest in journalism when I started writing for The Miami Student, the school newspaper, during my freshman year. This made me decide to add my Journalism major. I started working as an editor my junior year, and now I am second-in-command as the managing editor.
"The experience has made me seriously consider journalism as a career as well, because writing has always been my strong suit. As an editor this year, I hit the ground running, trying to write some important stories, and I just really loved it. The people at The Miami Student have become my family on campus, since we spend probably 30-35 hours a week together working on the newspaper.
"I feel like I've come into my own there. We have to be critical of things in the university, trying to challenge the status quo, so sometimes I think that can make us a bit more jaded about Miami. However, along with studying abroad, working at the paper is something I know I'll carry with me long after I graduate from Miami."
Miami and the Liberal Arts
"Miami has given me different perspectives to work with that helped me find my own identity. You're given small pieces of information which you can fit into your own personal portfolio. Art history, anthropology, history — they're all useful for any majors. Everything gives you knowledge and a foundation for the rest of your life — even if it doesn't have anything to do with your major or career.
"For me, it's not the money, it's about feeling fulfilled at the end of the day and having a job that I think is rewarding. That's what you should want to pursue. Educating you about a little bit of everything and a lot of one thing is what I believe the liberal arts does so well.
"I was really excited, for example, after my first international studies class. It involved geography, history, anthropology, political science and economics, all of which prepared me to choose my own field. I felt I could work for the government, or work at an NGO, or focus on a foreign language or a certain region.
"As for journalism, I have really fallen in love with the craft, and I think it rubs off from the faculty's passion for it, too. All of them have had experience as journalists in some capacity, so they speak from their own experiences and talk about the newsrooms they worked in. They teach us how journalism is changing a lot in the digital age, so it's hard to know where it's headed. Nowadays, we have to learn to do audio and video and photography alongside developing our writing. The faculty are more than just teachers — they are mentors and friends, and they'll be references who can help me find my next job."
Making a Lasting Impact in Africa
"In the summer of 2014, I volunteered to help underserved teenagers at the YMCA in Pietermaritzburg, a mid-sized city in South Africa. The Y is a global nonprofit, and in Africa its focus is more on programs and community building.
"Most of the kids at the Y were coming from the surrounding townships or informal settlements. I had two main roles: teaching very basic computer skills to a group of about 60 teens, of which only two had ever used a computer before, and working with homeless teens from overcrowded or abusive households.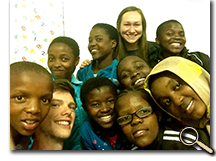 "These kids might have been forced out of their homes because they were the oldest sibling, or because their parents were abusive, or because they were trying to get away from drug or alcohol addiction in the family. Some of them had already developed an addiction themselves and were pushed toward violence on the streets. We provided them lunch twice a week, played soccer with them, and talked to them to try to be a positive influence in their lives. Because they had not completely broken free of their situations, however, it was really rough at times.
"There was one young man, Langa, who made a particularly strong impression on me. He was working a really low-paying job as a car guard, just trying to raise money to go back to high school. He was already 24, and it would've taken him years at that rate to do so.
"We really wanted to do something for him, so after we left in the fall, we set up a scholarship fund in partnership with the Pietermaritzburg YMCA. By selling handmade bracelets, we earned enough money to get Langa back to school and graduate — and now he is looking into tertiary school! He has been back at school for more than a year now.
"It was incredibly cool that we could have a lasting relationship with not only Langa but all the other teenagers and people working at the Y. The experience was really special to me, because I learned that even the small things we could do often had a lasting and positive impact.
"I returned to Pietermaritzburg for two weeks this March to do research on youth homelessness in the area. From my interviews and reporting, I plan to publish an article in a newspaper or magazine, telling the stories of several kids living on the streets in Pietermaritzburg."
Advice to Students
"My advice is quite simple: study abroad and travel. I've found it incredibly interesting to live in a different part of the world on several occasions. In study abroad experiences, you still are studying, but in one case I lived for three months in another hemisphere, in the same conditions as the local people, eating the same food, and really feeling like I was a real part of their world for a while.
"Getting in early to figure out what kind of involvement you want to have is how you maximize your college experience. I've had all sorts of wonderful experiences through my time at Miami. By jumping into various new things, you'll become a much stronger person, grow up, and come into your own."
[April 2016]