Taylor Shade (Class of 2015)
graduate student in Miami's Spanish MA program
double majored in International Studies and Spanish (graduated May 2015)
from Dayton, OH
worked in the U.S. Embassy in Madrid, Spain as part of a summer internship with the U.S. State Department

Study abroad, get an internship, and if you can, get an internship abroad. Put yourself out there and get that experience. That is what employers are looking for, so make yourself stand out as much as you can.

Why Miami?
"I first came to Miami in April as a prospective student while it was pouring down rain, but I just fell in love with the place. I was looking at schools in terms of their proximity to my hometown in Dayton as well as their study abroad programs, and Miami was really strong in both.
"My favorite thing about Miami is the community. I like not only how close everyone is physically on campus but also how close we are emotionally. Miami is small enough where you know everybody but also big enough so that you can keep on meeting new people every day."
Best Miami Experiences
"During my first year, I lived in Thompson and met some of the most amazing people, many whom I'm still friends with. I also studied abroad in Spain during the spring of my freshman year and still got the full freshman experience by meeting a ton of people and doing a lot of extracurricular activities.
"I was the photographer and secretary of Miami's Pistol Club for a few years, which is an organization that uses the ROTC shooting range where you teach students how to shoot guns with the appropriate management. I also joined the Boxing Club in August 2014, as a recreational boxer. Clubs are a great way to meet people on campus.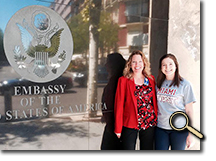 "My areas of study are both Spanish and International Studies, so I felt the best career options for me were in teaching or government work. My courses prepared me for working as an intern in Spain with the U.S. State Department, and in preparation I had to memorize every country, mountain, and sea in the world! One of the foreign service officers, for example, worked in Djibouti, so I had to know where that was and point it out on a map.
"It's also important to know the different current events happening in various countries. Working in the State Department kept me on my toes, because they would often quiz me on things that I needed to know. Many times representatives would discuss the places that they worked, and if I had no idea where a place was, I would Google it and try to learn as much as I could about as many regions and countries as possible!
"My overall experience at Miami has prepared me for a career because there are many resume and interview workshops here on campus that will help you. Miami offers a lot of tools for you to work with."
Miami and the Liberal Arts
"I don't really believe that someone should just focus on one thing in college. College is important because you learn a lot about yourself and the world. Everything is connected, so you should just learn as much as you can.
"My Spanish major was very exciting because I just love reading the Spanish literature. As a different culture, it's full of magic and is interesting to read, both fiction and non-fiction. I particularly love reading magical realist fiction. I enjoyed it so much that I decided to get a master's degree in Spanish as part of the combined Bachelors-Masters program that Miami offers. I completed my bachelor's degree this past May and expect to graduate with my master's this December!
"I also loved International Studies as a major, largely because of my own focus on the history of Latin America and Spain. The major allowed me to focus on other countries in the world, making me a more well-rounded person.
"Beyond my majors, liberal arts enabled me to discover other courses, such as political geography. The class was really tough, but I knew that it was something that I needed to learn. I also gained a lot from my foreign policy capstone, since whenever you are writing an 80-page group paper, you just feel so accomplished afterwards! I really had a blast doing this—I was in an amazing group and it turned out to be a very rewarding class."
Working in Spain for the U.S. Embassy
"I first studied abroad in Spain during my freshman year, and it enabled me to do a lot of travel and study. Then, in January-Term 2014 I went to Rancagua, Chile to do an independent study there to practice my Spanish. I had already lived there for a year in 2008 and was able to return and visit, writing papers about the Chilean education system.
"Then, through Miami's Career Fair I heard about a summer internship program for International Studies majors to work for the U.S. State Department just about anywhere in the world. I decided to apply and actually got it. I only had the choice to apply to Washington, DC, Madrid, Spain, and/or Buenos Aires, Argentina—so of course I chose Spain!
"I spent 2½ months working in the Consular section at the U.S. Embassy in Madrid. One of my assignments was to do some investigation on Chinese citizens who were applying for non-immigrant visas. I did a lot of fingerprinting and visa work. I got to meet some famous people, and also some people I already knew.
"I also got to work with American citizens who had had their passports stolen or who had lost them. My favorite assignments were off-sight or going to informational meetings. I also got to hand out diplomas at a high school graduation ceremony for Spanish-American students. I visited prisons, wrote up reports, sat in on important meetings to take notes—I was able to do so much!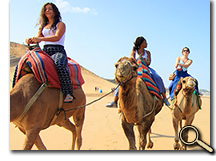 "The U.S. Embassy, as you would expect, has a lot of high security. You need a special keycard to get into the building and through a variety of different doors. I had to attend a lot of security briefings, where they explained that you cannot plug in anything to the computers. They were really strict with phones, there were some places in the building you were not allowed to bring a cell phone! It was an amazing place to work, however.
"While in Spain I lived with three Spanish girls: one was a doctor, one was working in the film industry, and one was doing research in a science lab. Living with them allowed me to improve my Spanish greatly just by listening to them speaking. We often went out to have dinner, and we even watched American TV shows like Pretty Little Liars together.
"And, of course, I got to do some traveling as well. I went to Morocco, Venice, Slovenia, Brussels and Prague, so I had a very well-rounded experience and feel like a completely different person now. I was given so much responsibility and learned so much in my internship that I feel I could add several pages to my resume!"
Advice for Students
"Students who are majoring in International Studies should always take classes outside of the major, and if you have the opportunity, you should take not just one foreign language class but three! Business classes help as well, because even for liberal arts majors knowing that stuff is super important, and Miami has a great business school. While you're here, be sure to take advantage of various classes.
"Study abroad, get an internship, and if you can, get an internship abroad. Put yourself out there and get that experience. That is what employers are looking for, so make yourself stand out as much as you can."
[August 2015]