Student Spotlight: Emily Greenberg (Class of 2017)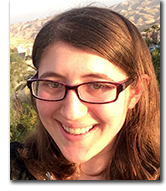 senior Speech Pathology and Audiology major
minors in Jewish Studies and Spanish
from Vernon Hills, IL
member of Hillel and the Association of Jewish Students
studied intensive Hebrew for a semester abroad in Jerusalem, Israel (Spring 2016)
does clinical work in Miami's Speech and Hearing Clinic
"After I attend grad school, I'm looking to work in speech pathology, with a focus on kids. This may include kids with special needs in a public school or a private clinic setting. My clinical experiences at Miami have really helped to prepare me for this career."
Why Miami?
"I have always been interested in language and language acquisition. When I was a senior in high school, I took part in a summer program that gave 5 days of clinical experience and observation, all related to the things that speech pathologists do with different kinds of populations. Based on that experience, I knew what I was interested in when looking at colleges, and I really liked Miami's speech pathology program.
"Undergraduate students at Miami get to have hands-on clinical experience, which is not something commonly offered at the undergraduate level. Miami's location was also close enough to my home in Illinois while still giving me my own freedom and opportunities. And I loved Oxford!
"My first year at Miami was very busy — I started taking the prerequisites for speech pathology right away. I was also taking Spanish and Hebrew at the same time, so it was a lot of work to separate those two languages out in my brain. My interest in those languages led me to minor in both Spanish and Jewish Studies, neither of which have anything to do with my major but have been well worth it.
"I also became involved with the Miami Hillel student organization, where I served on the executive board during my second semester, and also joined the sorority Alpha Epsilon Phi. With Hillel, I met my first group of friends, and it was nice having older friends who knew where to go for advising or, having cars, could lead us on adventures to Steak n' Shake and that sort of thing!"
Best Miami Experiences
"Miami Hillel has become my home away from home in a lot of ways. I grew up very involved in the Jewish community at home in Illinois, and I enjoy participating here by setting up for Jewish services and holidays. We have a program in which we sell challah (a type of bread) to help combat hunger in the community, and Alpha Epsilon Phi plans a spring service project called 'Pink Week' which culminates in a Pink Shabbat Service at Hillel to raise breast cancer awareness.
"As a speech pathology and audiology major, I've taken part in a lot of clinical experiences. Under the supervision of a graduate student, I work with a specific client at the university's Speech and Hearing Clinic to plan and help execute therapy sessions. One of my speech pathology professors, Dr. Chip Hahn, has really helped to give me a good foundation for my major, and I feel prepared for grad school and more passionate about a career in speech pathology because of his encouragement.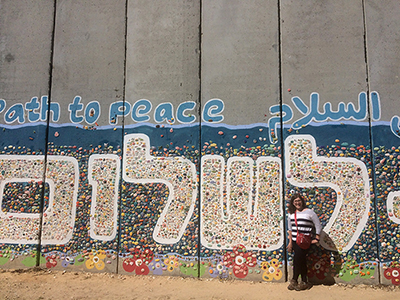 Emily Greenberg poses in front of the Path to Peace Wall, Netiv HaAsara, Israel.
"The flexibility of my Miami courses allowed me to spend Spring 2016 semester at Hebrew University in Jerusalem to study intensive Hebrew. I fulfilled most of my classes for my Jewish Studies minor during this experience, taking classes for 5 hours a day, 5 days a week. On the weekends I got to do a lot of hiking around the Dead Sea and the Sea of Galilee and visited different cities throughout northern Israel, including Tel Aviv. Over spring break I traveled as far as London and Rome. I even got to meet my Israeli cousins, who I didn't even know existed until a couple years ago!
"While many Israelis speak English in Jerusalem, I found they would listen patiently as I tried to speak to them in Hebrew. I was the only Miami student among a number of students from abroad, and in addition to language study I also took classes on archeology, history, and religion. It was a really exciting opportunity. I have always been passionate about studying in Israel, and my trip gave me new connections with family members. Taking ownership of my heritage and going abroad on my own has gained me a lot of independence and confidence."
Miami and the Liberal Arts
"I value my ability to take a variety of courses at Miami that don't necessarily overlap. The need or desire to take classes specifically to a career does not mean that you shouldn't pursue other interests. My liberal arts education allows me to do that.
"I am taking a linguistics course that was a prerequisite for grad schools, and my experience taking two different foreign languages helps me to understand and contextualize linguistics in multiple languages and provides greater depth in what I'm studying in speech pathology and language acquisition.
"In particular, I've enjoyed my course on alternative and augmentative communication (SPA 427), which is required for my major. We learned about the different technology that is available to facilitate communication. We tried out a special kind of camera which tracks your eye gaze; it's ideal for someone who might not have use of their hands. I've also enjoyed my Hebrew language courses, which have given me a good, solid foundation for Hebrew grammar and served me well when I went abroad.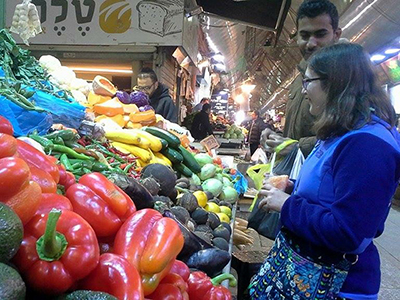 Emily Greenberg and friend at the Mahane Yehuda Market, Jerusalem, Israel
"Besides courses, now that I've been applying for graduate school for speech pathology, I've realized how much clinical experience I already have received as an undergraduate. This is a really big deal for applications because it's so uncommon. I have always been interested in language acquisition and helping people with special needs to reach their full communicative potential. Here at Miami I have done a lot of work with people who have different communication challenges, and I feel passionate about bridging the gap so that everyone can reach their communicative potential and be heard."
Working with Patients in the Speech and Hearing Clinic
"My clinical experience for my major allows me to work alongside a graduate student with clients at the Speech and Hearing Clinic. My hands-on experience involves me running therapy sessions and having access to the session plans and activities.
"My involvement includes setting up sessions, helping the graduate student facilitate communication with the client, and finding activities that the client will enjoy. The clients are regular people with all kinds of communication needs and are assigned to graduates or undergraduates. I was assigned one client to track throughout the semester to check their progress. I meet with this client once a week at the Clinic to discuss therapy sessions, and I'm joined by family members, a grad student, and a faculty member. We talk about what went well and what didn't so that we can learn and plan better sessions in the future that are better suited to the client's needs.
"My clinical experience has given me many opportunities to focus on the different aspects of what speech pathologists do. For instance, some speech pathologists work a lot with voice disorders. In one of my classes I learned about alternative and augmentative communication, which involve the use of communication devices for people who are nonverbal. I've also taken audiology and anatomy-based courses to get a broader understanding of how all these systems work together to make speech and overall communication possible.
"After I attend grad school, I'm looking to work in speech pathology, with a focus on kids. This may include kids with special needs in a public school or a private clinic setting. My clinical experiences at Miami have really helped to prepare me for this career."
Advice to Students
"As you move along your academic path, it's really important and helpful to find your own group of people who will support and encourage you. My clinical experiences have allowed me to make friends with other speech pathology majors and access resources on applying for graduate school. Don't be afraid to take different classes that don't relate to your major, and even look into doing an unrelated minor!
"Studying abroad is one particularly great way to acquire credits for your minor without disrupting your major coursework. Beyond that, find a student organization that provides support — both Hillel and Alpha Epsilon Phi have been great systems for me. Choose a topic you are passionate about and make friends with different people — not just those in your classes. You'll get lots of valuable feedback on how to collaborate and study together."
[October 2016]